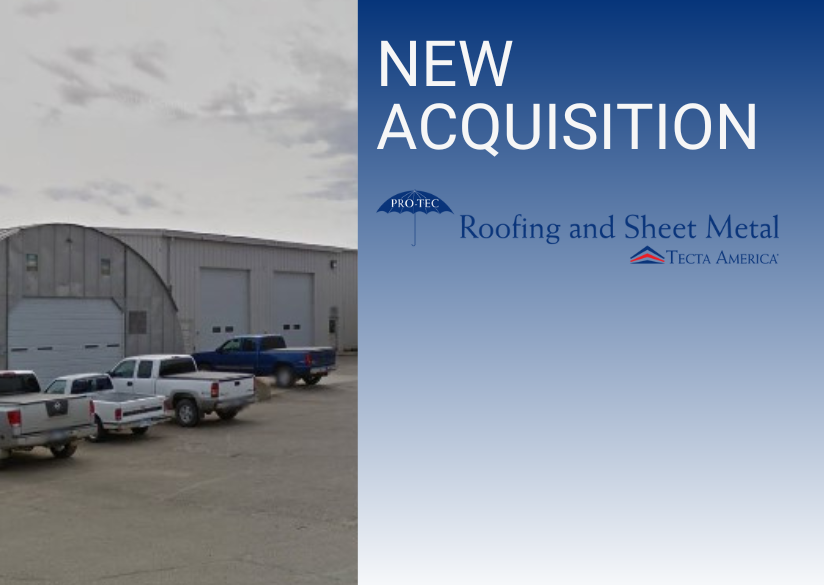 Tecta America, the national leader in commercial roofing, announces the recent acquisition of Pro-Tec Roofing and Sheet Metal.
Pro-Tec is an award-winning company with over 60 years of roofing experience. Servicing South Dakota, North Dakota, and western Minnesota, the Company has a long-standing reputation for exceptional work and customer service.
"We are very excited to have Pro-Tec Roofing and Sheet Metal become part of our team. With the addition of Pro-Tec Roofing, we will be able to expand our area of coverage to provide quality roofing services to customers in our region," said Jon Ziebarth, President of ARS, a Tecta America Company, LLC.
Pro-Tec Roofing and Sheet Metal was established in 1987 in Watertown, SD, and is a full-service commercial roofing company providing a variety of roofing and roof asset management services to customers.
"Pro-Tec shares our commitment to quality, integrity, and providing the best service in the region, which is why we are so excited to work with their team," said Todd Stugelmayer, Tecta's VP of Operations.
The operation will be known as Pro-Tec Roofing and Sheet Metal, a Tecta America Company LLC, and their entire management team and workforce will continue with Tecta America going forward.
"We are excited about and looking forward to strengthening our business for years to come, through the knowledge and resources Tecta America will provide. This seamless transition will provide us the opportunity to grow while continuing to provide quality customer service that has always been our trademark and kept us successful through the decades," said Adam Stemwedel, President of Pro-Tec Roofing and Sheet Metal.