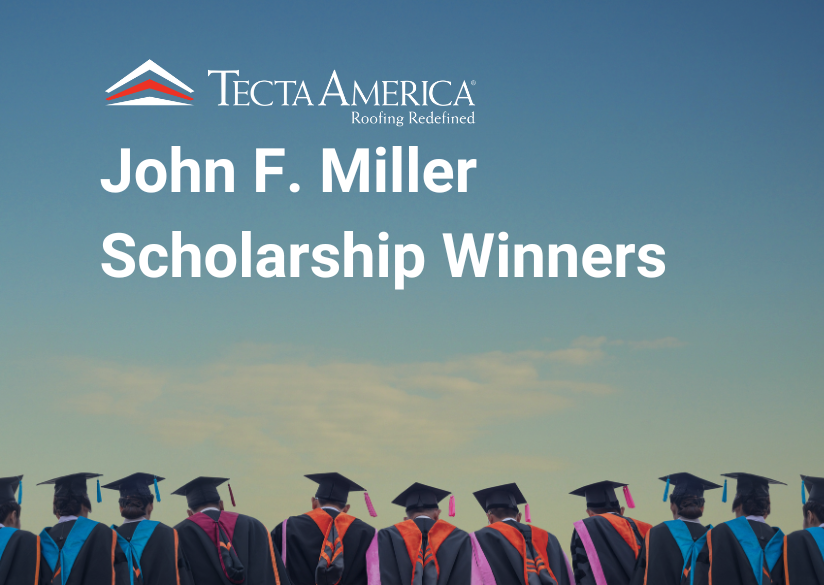 Tecta America is honored to announce the 2020 winners of the John F. Miller Scholarship Program.  We have over 60 students who were awarded scholarships, with a total amount of $90,750 awarded this year.  This excellent program has been in place since 2015.  The 2020 contributions will put Tecta's program at over $1,000,000 in awards.  This incredible program has helped hundreds of students achieve their dream of a higher education.
Student winners were selected based upon accomplishments in the areas of academics, leadership, community service, and extracurricular activities.
Celebrating our 20th anniversary this year, Tecta America is excited to be the sponsor of the scholarship program that is named in honor of John F.Miller – a Tecta founder and its first Chairman.
"I am so proud of Tecta America, a company that supports and honors its employees." – John F. Miller, Founding Chairman, Tecta America Corp.
The decision to create the scholarship shows Tecta America's continued commitment to helping the next generation as they pursue their education and career. We are excited and honored to be able to assist our dedicated employees children with these vital funds.
"This is one of the most rewarding projects we have done all year," Tecta America CEO Mark Santacrose said.  "We are always very impressed with the quality of the applications that we receive and proud to be able to do this for the children of our employees."
The 2020 recipients include:
Luis Alvarado (Tecta America Atlanta)
Leonardo Arencibia (JP Patti)
Sena Balbach (Schwickerts)
Bladyn Bartelt (Schwickerts)
Ben Baxter (Corporate)
Arom Bazan (JP Patti)
Dennis Bikmayev (Tecta America Zero)
Lily Bond (Melanson)
Nicholas Boyd (Weatherguard)
Cheyenne Brooks (WeatherGuard)
Kevin Brown (Tecta America Sanford)
Isis Cano (Blackmore & Buckner)
Jonathan Castro (Tecta America Atlanta)
Abigale Daniels (CE Reeve Roofing)
Orley Estrada (Roof Services)
Zach Gnall (Tecta America Jessup)
Joseline Gomez (CEI Roofing Texas)
Brian Gonzalez-Sanchez (FJA Christiansen)
Agustus Hill (Tecta America CS Amarillo)
Carrie Miranda Hobbs (Tecta America Carolinas)
Olivia Hunter (Tecta America Sanford)
Britney Jackson (New England)
Justice Johnson (Tecta America Atlanta)
Madison Kisor (Schwickerts)
Jadyn Koestering (Schwickerts)
Ayden Kracht (Tecta America Seattle)
Morgan Lebeda (Central Florida)
Paige Lehman (Schwickerts)
Tristan Lehman (Schwickerts)
Emma Leitel (FJA Christiansen)
Peter O'Brien (Tecta America Sacramento)
Mayra Ojeda Rodriguez (CE Reeve Roofing)
John Olivo (New England)
Emma Paredes (Corporate)
Annika Paulsen (ARS)
Anthony Pawling (FJA Christiansen)
Saida Perales (CEI Roofing Texas)
Alondra Peregrino (Western Roofing)
Alexis Peterson (Schwickerts)
Jenna Pittenger (Fort Wayne Roofing)
Jacqueline Rabino (Metro New York)
Jacqueline Rivera (Anthony Roofing)
Melissa Rivera (Anthony Roofing)
Shante Rust (Tecta America Dakotas)
Leslie Samperio (Illinois Roofing)
Jaden Schefers (5chwickerts)
Tristan Schroer (Schwickerts)
Shelby Schwarzhoff (Schwickerts)
Angel Serrano (JP Patti)
Austin Shook (Tecta America Carolinas)
MaKenzie Smith (Roofing Systems of Maine)
Ana Soltero (Seattle)
Bryson Stark (Tecta America Zero)
Stephanie Stone (Tecta America Seattle)
Haley Survis (FJA Christiansen Roofing)
Thomas Trepanier (Illinois Roofing)
John Turco (JB Roofing)
Jonathan Turlo (Roof Systems of Maine)
Summer VanNostrand (Roof Services)
Ryan Velazquez (JB Roofing)
Katelyn Vieni (Roof Services)
Emily Walsh (New England)
Brandilyn Williamson (Roof Services)
Tristin Williamson (Roof Services)
Allyson Willis (Tecta America Zero)