BUILT-UP AND MODIFIED BITUMEN ROOFING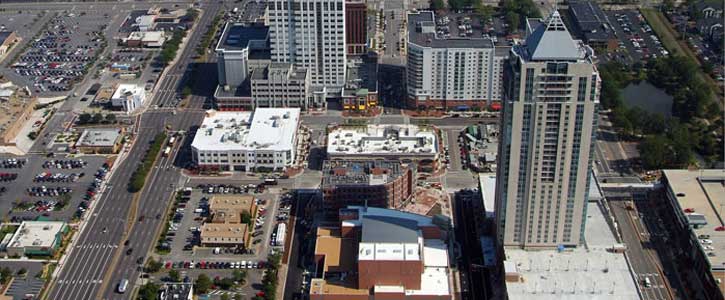 At Roof Services Corporation, we are dedicated to carrying on the age-old tradition of built-up asphalt roofing (BUR) and its newer cousin, modified bitumen roofing. Roof Services Corporation has made a commitment to excellence through the purchase of quality equipment and the development of a skilled workforce with five (5) built-up roofing crews who have installed millions of square feet of warranted installations. Our teams are experienced and qualified in all aspects of modified bitumen and BUR application including hot mopped and cold process installations. You can rest assured of quality and professionalism on every project. Roof Services Corporation is one of few elite contractors in the state of Virginia to have earned the Johns Manville quality award as a "Summit Contractor." Roof Services Corporation is a licensed applicator with the industry's leaders in modified bitumen roofing and BUR to include Johns Manville, Tremco, Firestone, and Soprema.
SINGLE PLY ROOFING
Roof Services Corporation is one of the largest single-ply contractors in the Eastern United States with over nine (9) trained and experienced single ply crews. Our crews are skilled in every type of installation technique including mechanically attached, fully adhered and ballasted systems as an approved applicator for the nation's leading single ply manufacturers including Firestone, Carlisle SynTec, Johns Manville, Fibertite, and Durolast. Roof Services Corporation has installed over 20 million square feet of warranted single-ply roof systems. Whether its 1,000 square feet or 1,000,000 square feet, we have the right product along with the training, and experience to ensure a quality long-term performing single ply roof installation. Roof Services Corporation has been the recipient of numerous quality applicator awards including the following:
15 Firestone Master Contractor awards
Two Firestone President's awards
Four Firestone Circle of Quality awards
232 Carlisle Perfect 10's
Two Johns Manville Summit Contractor awards
Two Johns Manville Peak Advantage Contractor awards
METAL ROOFING AND COMPOSITE PANELS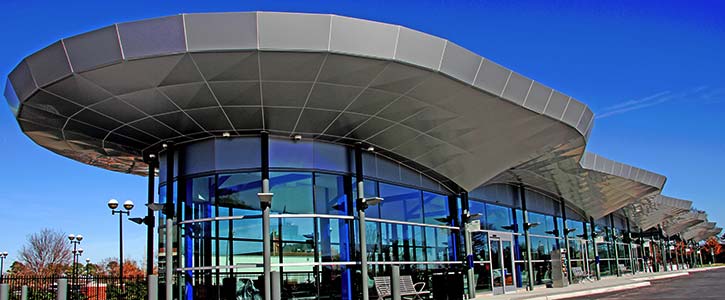 To ensure quality control and to provide full-service capabilities. Roof Services Corporation has a fully equipped and computerized sheet metal manufacturing facility and composite panel manufacturing capabilities. The shop is fully staffed and managed by a certified journeyman sheet metal mechanic with over 25 years' experience. Our sheet metal facility holds the NRCA's UL certification for Compliance with ANSI/SPRI ES-1. We provide custom fabricated metal flashings including coping, counter flashing, conductor heads, fascia metal, pitch pockets, gutters, downspouts, etc. With our modern equipment, custom fabrication can be done with all types of metal (stainless steel, copper, aluminum, pre-finished steel) from 16 to 24-gauge steel and .032 to .063 aluminum. We also have TIG (GTWA)and MIG (GMAW/MAG) welding capabilities. With its roll forming machine, Roof Services Corporation can field fabricate aluminum and steel standing seam metal roof panels in many styles to fit the owner and architect's design request. Also, we install insulated metal wall panels. We are also authorized and experienced with other metal roof manufacturers including Englert, PAC-CLAD (Petersen), Drexel, Sentriclad, Merchant & Evans, Inc., Fabral, Atas, Metl-Span and MBCI. Also, Roof Services Corporation can custom fabricate composite wall panels, fascia, soffit, and ceilings. Wall panels can be done in custom colors and shapes including straight, curved, or tapered panels. Our panels can be done in 4mm or 6 mm thickness. We are also authorized and experienced with other composite panel manufacturers including Citadel, Alpolic/Mitsubishi, and Reynolds.
ROOF COATINGS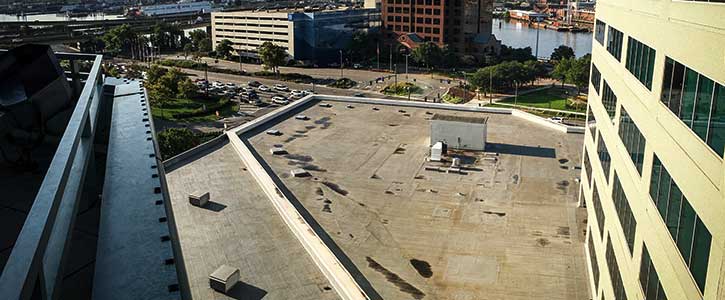 Over the years roof coatings have received a bad reputation, that anyone with a roller can apply a coating and make it look pretty. Once issues such as leaks arise, the installer is nowhere to be found. At Roof Services Corporation, we have a proven track record of installing warrantable Roof Coating Systems. Most notably, our roofs approaching 18 years and are still performing. We have four (4) crews with up to 25 years of experience. Our teams utilize the spray and roller methods for various coating systems such as silicone, acrylic, urethanes, and fibered aluminum. Roof Services Corporation is an authorized contractor for General Electric (GE)/Momentive, 838 Coatings, Henry and Tremco. We have meticulously chosen to work with these manufacturers because of the shared principles and their commitment to the industry that is based on quality, not quantity.
LOADMASTER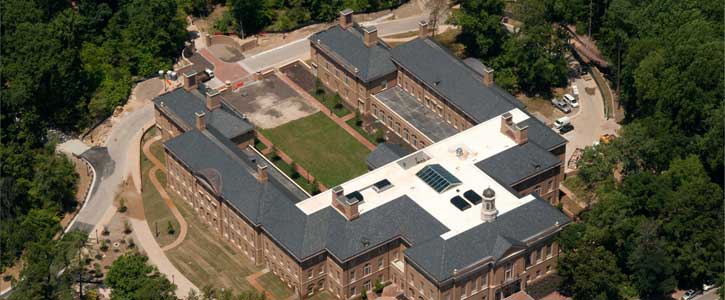 Roof Services Corporation (RSC) is an approved Loadmaster contractor, with over 1,000,000 square feet of system installation. RSC has twice received performance awards from Loadmaster. Loadmaster is a complete roof deck system composed of a high tensile steel base with thermal insulation and high-performance Duraflex Mineral Board mechanically anchored to the steel sections to provide composite strength. Loadmaster can be used with all types of commercial roof systems including BUR, single ply roof systems, modified bitumen systems, and metal roof systems. Our training and experience with Loadmaster, today's most efficient roof deck system in the commercial construction industry, is just one of the many reasons Roof Services Corporation is your best resource for complete commercial services.
MAINTENANCE
ROOF SERVICES CORPORATION (RSC) is a well-established leader in the commercial roofing industry and has one of the largest and most sophisticated Maintenance and Repair Departments in Virginia.
The responsibility of this Department is to provide property owners and managers with the necessary tools to extend the useful service life of existing roof systems.
This is accomplished through the implementation of systematic, preventive maintenance procedures including:
routine roof inspections
deficiency identification
budget planning
repair prioritization
replacement forecasting
corrective action
Whether you are an owner or manager of one property or multiple properties, our dedicated team of experts will provide the necessary information to allow for informed decision making in the allocation of limited funding.
Pro-active management through strategic, long-term planning is a proven cost saving strategy. It is the goal of the Roofing Maintenance and Repair Department to assist in meeting the challenges of today's rapidly changing business climate.
ROOF SERVICES CORPORATION (RSC) has offices in Virginia Beach and Richmond with dedicated crews ready to respond to any emergency 24 hours a day, seven days a week, every day of the year, including holidays.