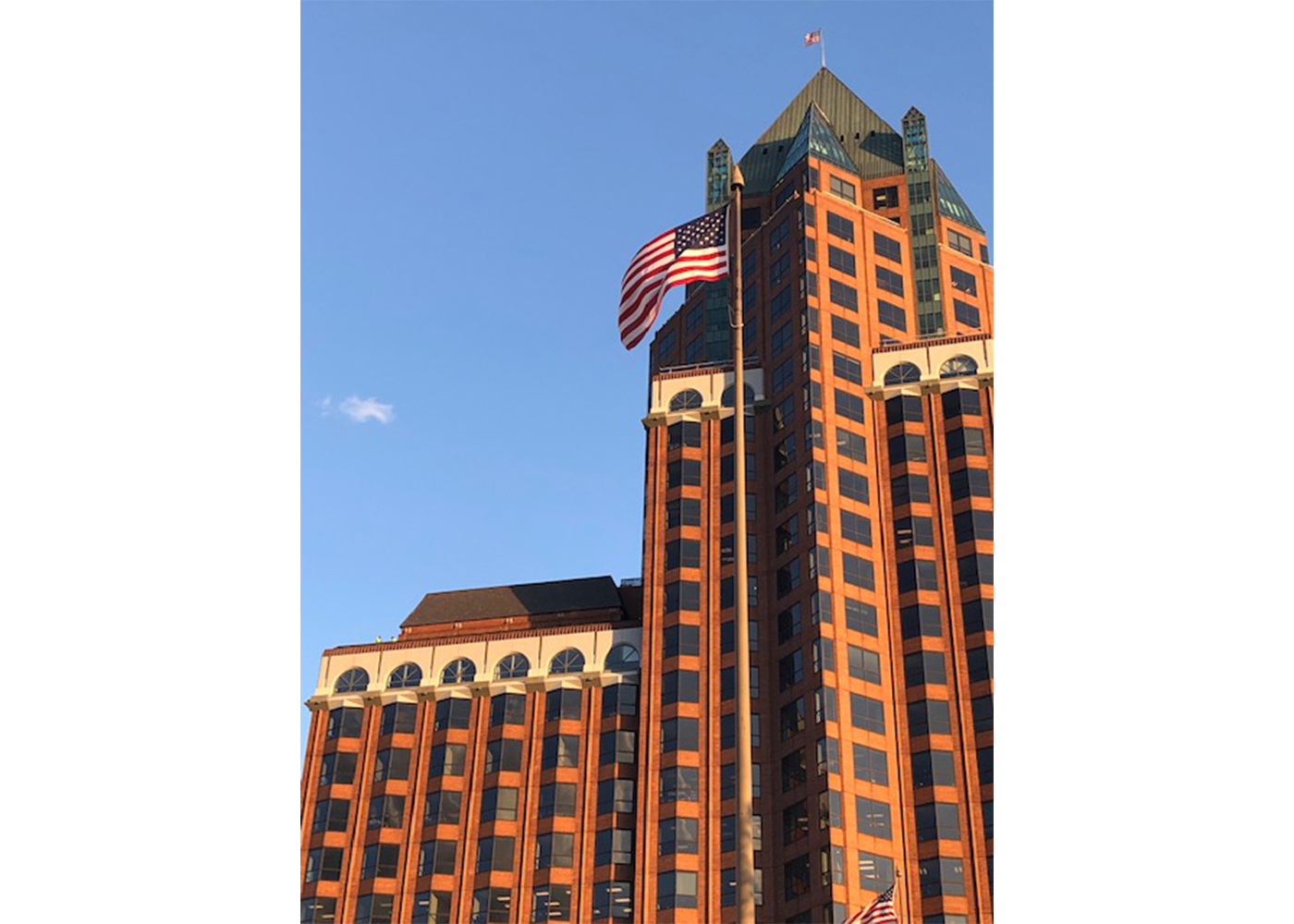 The Associated Bank River Center, formerly known as the Milwaukee Center, is one of downtown's most prestigious business locations. The 28-story building is part of a mixed-use complex that houses the St. Kate Hotel, the Pabst Theater, the Milwaukee Rep, and bars and restaurants. It's billed as downtown Milwaukee's only 5-Star office tower.
It's also in a prime and very busy location – situated along the Milwaukee River and across the street from City Hall and the Marcus Center for the Performing Arts.
So when the time came for roof system work, logistics would be more challenging than most roofing projects. F.J.A. Christiansen Roofing was awarded the contract for the work, which involved the replacement of roof systems on corner balconies and plaza decks on two other floors of the tower.
While FJAC is accustomed to access challenges relating to the staging of cranes and equipment at job sites, the Milwaukee Center project also had unusual balcony access issues, noted Sean Kocherer, FJAC project manager. Access to the corner balconies for crews and materials was through office windows – and only during off-hours when office tenants were not at work.
"We're used to getting started early in the morning and working through the day," Kocherer said. "But for this project, we couldn't show up until after 5 p.m. So we had a 5:30 p.m. to midnight shift, then another shift from midnight to 8 a.m." Thus, lighting was required.
Once on the job site, Milwaukee Center security personnel escorted FJAC crews up elevators to the balcony levels on the 21st and 25th floors, and to the 15th and 17th floors for work on plaza decks. Nothing could be stored on-site, so materials had to be brought and removed each day. And the offices had to be clean, which prompted FJAC to purchase small, residential-type vacuum cleaners. "Come each morning, the offices had to look like we were never there" noted Don Walter, FJAC Vice President.
Work on the office tower also involved masonry and plumbing contractors, so communication and coordination with those trades were essential, Walter added.
Fall protection was a major issue. In lieu of the typical tie-off method of protection, temporary guard rails were built on the eight balcony areas being worked on.
To protect a large galleria skylight, netting was installed to catch any ballast rock that might have fallen during the roof work.
For the balconies, the original plans were to apply a new system over the existing ones, but when materials were tested, adhesion was not satisfactory, so a complete tear-off was called for.
The balconies had an inverted roof membrane assembly, in which the insulation is placed over the membrane instead of under it. That existing American Hydrotech system had performed well, so the method was followed for the new roof. The inverted assembly helps maintain the integrity of the membrane by protecting it from UV rays and temperature extremes.
Each L-shaped balcony is less than 300 square feet, so only two or three crewmen could be on a balcony at one time.
An inverted roof membrane assembly also was used on the plaza deck off the 15 floor, but since that deck is used by office workers, pavers were placed atop the roofing materials. For the 17th-floor plaza deck, which is not accessible to office workers, a modified bitumen system was applied.  Leading our efforts were Service Crew Manager Don Wohlfeil, Carl Pawling, and Production Crew Manager Angel Torres with Mark Hamm as Roofing Superintendent.