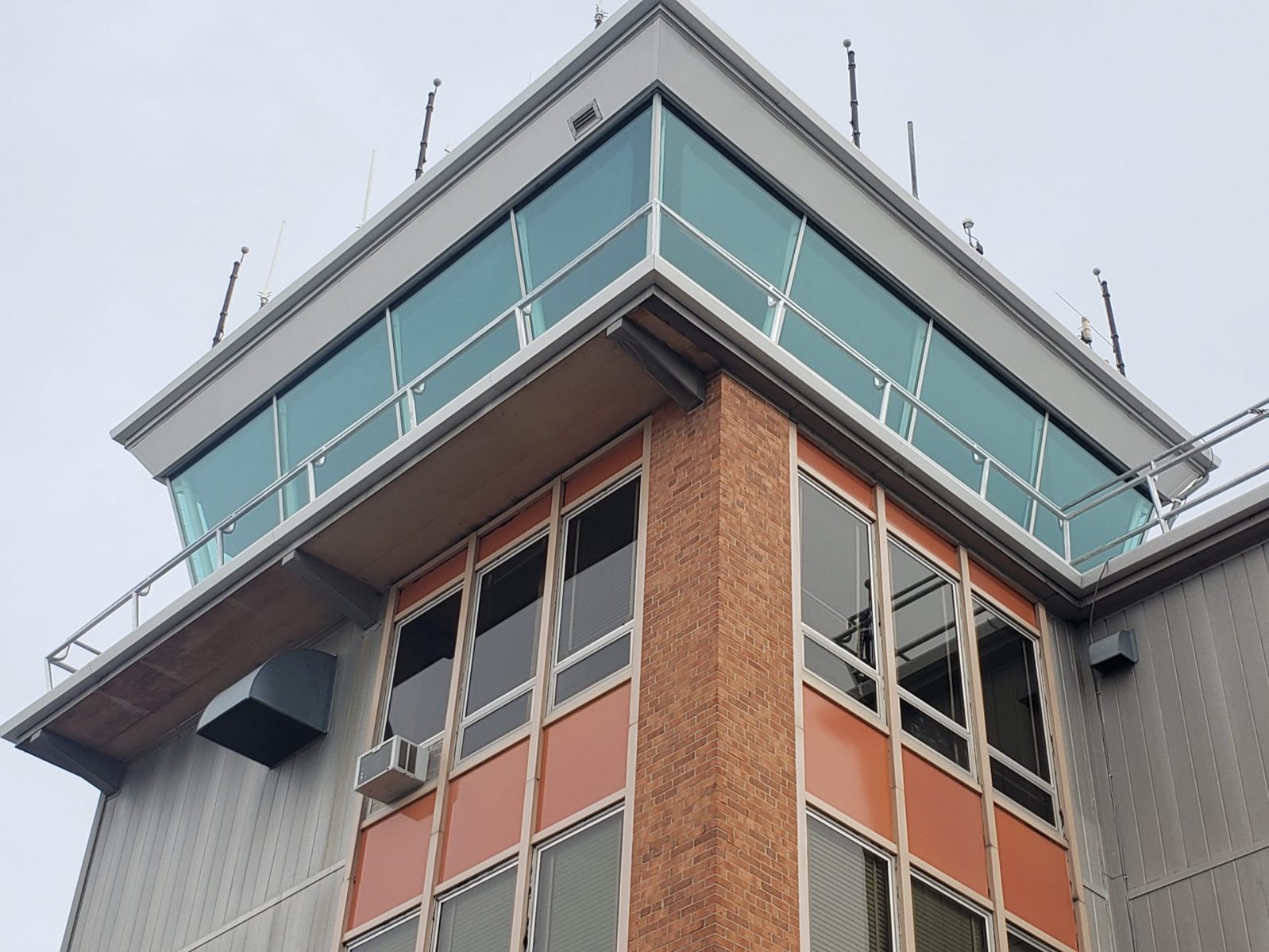 Milwaukee County's Lawrence J. Timmerman Airport, commonly known as Timmerman Field, provides a convenient alternative to the busy Mitchell International Airport for owners of corporate and private aircraft.
Flights into and out of the airport on Milwaukee's northwest side are guided by air traffic controllers who work in a 5-story control tower that was built in 1959. That building remains highly functional, but its roof system was failing – exposing the structure to water-related problems. F.J.A. Christiansen Roofing was retained to replace the roof and help give the tower many more years of service.
The control tower project had a unique set of challenges, due to the airport setting. FJAC crews had to pass background checks and deal with on-site security measures, but county officials facilitated the process, noted Sean Kocherer, FJAC Project Manager for the work.
"Despite the restricted setting, accessibility was great, thanks to the fantastic job the county did to get us onsite," Kocherer said.
Another challenge – one unique to the setting, was control of debris, Kocherer said. FJAC crews had to ensure that debris from the removal of the existing roof and any bits of insulation was completely contained to eliminate the risk of wind-blown debris affecting aircraft engines. That process included the assignment of an FJAC crewman to monitor the runway.
"There could be absolutely no debris on the runway," Kocherer said. "Even the smallest piece of insulation could pose a problem, so we had to make sure the runway was clear of any debris."
Another challenge was the myriad of antennas atop the tower, noted Steve Stuckey, FJAC Estimator for the project. As work progressed on the new roof, antennas had to be removed and quickly relocated to continue to support communications.
FJAC crews also had to work around access issues that restricted scaffolding and crane use.
Sheet metal work was done from a man-lift.
"Our crews had to work in a very confined area," Kocherer said. "Fall protection was extremely challenging."
The 4,000-square-foot roof had a modified system that had been applied over a previous built-up roof. Both were removed down to the deck and replaced with a modified bitumen roofing system with tapered insulation to support good drainage.
The work also involved decorative side panels which were raised six inches and other metalwork. FJAC's Sheet Metal Department crafted aluminum siding panels with an insulation backing that created an attractive, smooth surface.
Airport personnel took the opportunity to replace cabling and wiring on the roof during the two-month project.
"The new roofing system will provide many years of protection from the elements, allowing continued flight traffic at this light aircraft alternative," Stuckey said.
The airport contract also included reroofing of a Quonset hut used as an airplane hangar.
"It's not the usual type of roofing project," Kocherer said. The hangar had asphalt shingles on its steep areas and rolled roofing at the top. All was removed and replaced with a self-adhering single-ply membrane.
Mark Hamm served as Roofing Superintendent for the project while Jeff Keller was the Sheet Metal Superintendent.  Field Roofing Crew Manager Oscar Torres led the onsite roof replacement while Sheet Metal Foreman Paul Keller handled the metal panel and related sheet metal installations.
Airplane manufacturer Curtiss-Wright created Timmerman Field in 1929 as part of a program to develop airports throughout the country. Timmerman's airport code of MWC is a reference to Curtiss-Wright. Milwaukee County became the owner of the 131-acre property in 1947. It now encompasses 420 acres. The airport was renamed Lawrence J. Timmerman Field in 1959, honoring Timmerman who had been a long-time chairman of the Milwaukee County Board of Supervisors. It hosted some of the earliest fly-ins of the Experimental Aircraft Association from 1953-58.