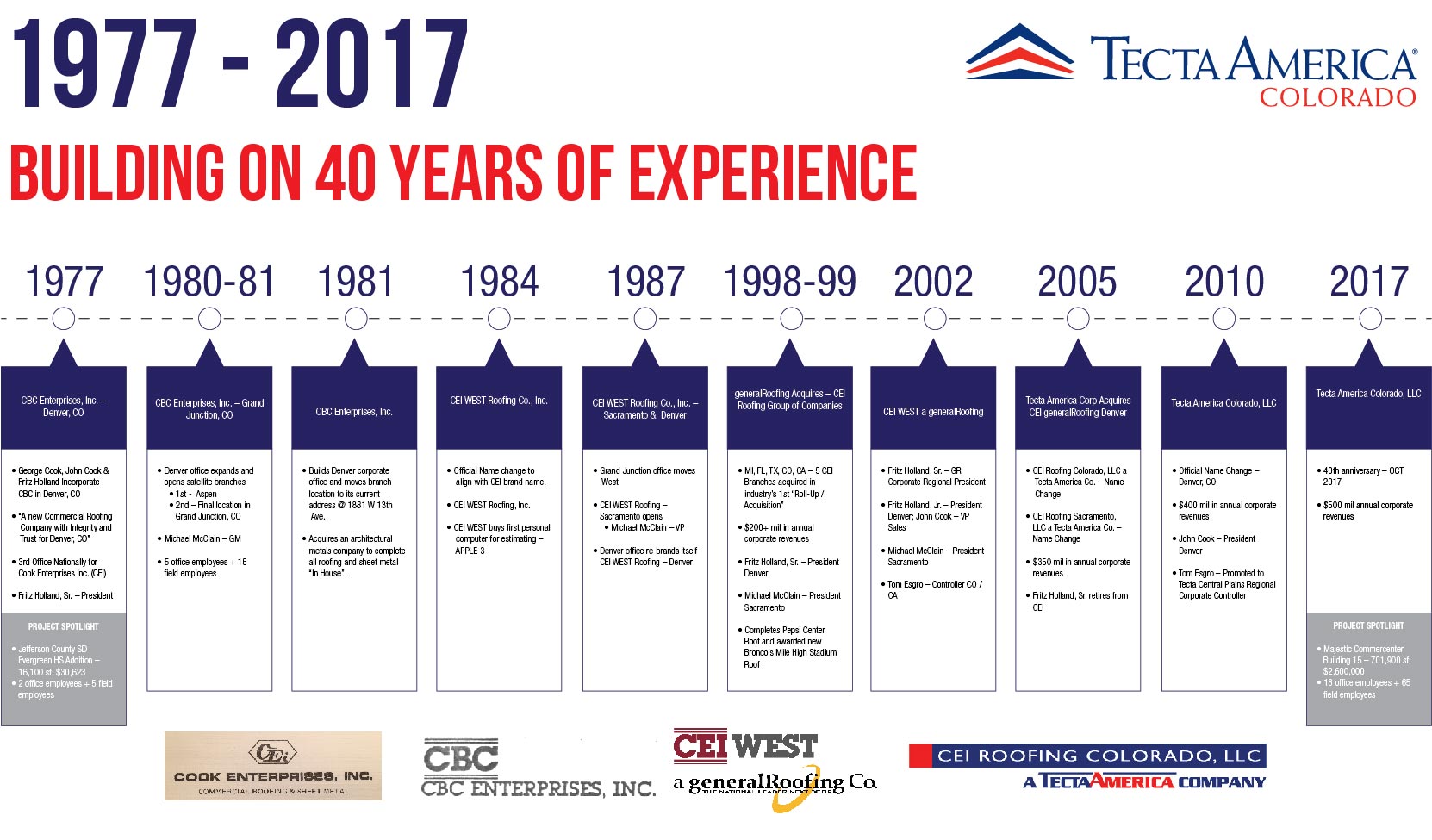 What Our Customers Say
We had a site walk last week from our Big-D Quality Assurance Manager, and I wanted to pass along his gratitude towards your crew for such a great installation. While he walks our projects towards the end as he is in charge of all warranty items that arise once we turn over any project, and he takes special care to look at details/specifics whenever it comes to roofs. He can clearly tell when we have quality sub's that take pride in their work, and Tecta America has done just that. Pleasepass along a thank you to each guy that you had mustering through the sub-zero temperatures to see to such a quality install. Thanks.
Ken Rozema
Project Superintendent, Big -D Construction Corp
"The Saunders team from the Sheridan 3-8 School project would like to express our appreciation for the work you performed on this project. Your crews worked in a professional manner providing a safe and quality installation while maintaining the project schedule. Although every project has its challenges, Tecta's commitment to the team and the project was evident throughout."
Jason Godby
Sr. Property Manager, Saunders
I wanted to personally thank you and your entire team for a job well done. Our fast track project which involved ripping & replacing multiple roofs over our active retail operation was accomplished because you committed a full time project executive over 20 roofers per day and office support to "get to the finish line". Our $500,000 project was completed well within our time frame. You also provided 24/7 contact because you were an out of town contractor.
Your team performed as well as any I have managed myself.
Robert J. Bland
Project Manager, Macy's
Majestic Realty has work closely with Tecta America over the last 10+ years. Tecta America has continually gone above and beyond the call of duty in regards to the roofs at our facilities located in Aurora Colorado. Tecta America employees have always looked at different ways to help with roof needs and making recommendations for solving problems. Majestic and Tecta America approach our working relationship as a joint venture. If one succeeds so does the other.
Jean La Placa
District Manager, Majestic Realty
Our Team
John Cook
President
John has been in the industry since 1995 and joined Tecta in 2005. He provides leadership, development, drives local projects, financial performance and collaborates with department managers on the overall vision.
Thomas Esgro
Regional Controller, Vice President
Tommy has been in the industry since 2001 and joined Tecta in 2005. As a Tecta regional controller, he oversees nine operating units and their financial reporting and performance on a monthly and annual basis.
David "Ted" Bruce
Director of Operations
David has been in the industry since 1985 and joined Tecta in 2013. David is responsible for overall field and project management. He monitors budgets and schedules to ensure they stay on track through the project.
Brad Topham
Service Manager
Brad has been in the industry since 1995 and joined us in 2005. He is responsible for daily scheduling, financial billing, service coordination and customer service.
Tim Hubka
Senior Estimator
Tim has been in the industry since 1985 and joined us in 2010. He is responsible for account management and managing projects with roof replacements.
Rob Koehler
Service Superintendent
Rob's been in roofing since 2005 and joined us in 2013. He works with project management, scheduling materials, equipment, overall project safety and customer satisfaction.
Matt DiVincentis
Estimating/Project Manager
Matt has been in the industry since 2002 and joined Tecta in 2011. He is responsible for estimating and managing projects with a focus on the new constructions markets – flat and metal systems.
Don Elder
Business Development/ Account Manager
Don has been in the industry since 2000 and joined Tecta in 2012. He is driving sales through new business development and by maintaining the relationships with current customers.
Vaughn Beckham
General Superintendent
Vaughn has been in the industry since 1981and joined Tecta America in 2010. He is responsible for scheduling and oversight of project crews.
Martin Torres
General Superintendent
Martin has been in the industry since 2000 and joined us in 2015. He is responsible for projects, scheduling materials, equipment, and project safety.
Dominic Pena
General Superintendent
Dominic has been in the industry since 1998 and joined Tecta in 2000. He is responsible for oversight of crews.