Milwaukee City Hall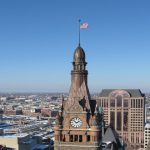 PROJECT DETAILS
Milwaukee City Hall Regains its Splendor
Milwaukee City Hall regains its splendor as a National Historic Landmark, with FJAC playing a major role in this exterior renovation over a period of 3.5 years.  Work involved complete replacement and replication of copper roof and associated copper elements to the south clock tower, as well as the smaller north tower.  The ornate aspects of the building's German Renaissance design are especially visible in its top elevations and towers – areas that involved FJAC roofing and sheet metal work.  Much of that work was on the iconic south tower, which rises 350 feet above the ground and houses a 22,000-pound bell and the four clock faces.  A steep-sloped copper-clad roof rises from the clock dormers, with a circular cupola with balustrade and lantern capping off the tower and holding the flagpole.  The copper roofing was replaced, and numerous decorative elements were re-fabricated in copper to match originals.
FJAC crews also replaced copper cladding, substrate and decorative elements on the smaller north tower, which also includes a cupola and lantern with decorative items, using approximately 115,000 pounds of copper on the overall project.  Flat roof areas on the 10th and 12th floors were replaced with an SBS modified bitumen roof system that initially was felt asphalt over a cement decking.
The project's many challenges were successfully scaled by FJAC craftsmen in this renovation of a National Historic Landmark.  These included replication of historic copper elements, adapting to field conditions arising from the structure's age and inaccessibility, and working at significant heights under tight working conditions and overall project deadline.  FJAC's work on City Hall has been honored by the National Roofing Contractors Association (NRCA) as it was awarded the prestigious Gold Circle Platinum Award.  The Platinum Award was introduced to honor projects that excel and surpass other entries in the Gold Circle awards program.
 [stm_project_details style="style_2″ title="PROJECT DETAILS" css=".vc_custom_1428651906989{margin-bottom: 41px !important;}"][stm_project_details_item label="Operating Unit:" value="F.J.A Christiansen Roofing Co., Inc."][stm_project_details_item label="Client:" value="City of Milwaukee"][stm_project_details_item label="Industry Type: " value="Government"][stm_project_details_item label="Project Type:" value="Historic Renovation/Roof Replacement"][stm_project_details_item label="Location:" value="Milwaukee"][stm_project_details_item label="Square Footage:" value="NA"][stm_project_details_item label="Systems Installed:" value="Copper, Modified Bitumen"][/stm_project_details][stm_contacts_widget title="CONTACT INFO" address="2101 W. Purdue Street Madison, WI 53209″ phone="414-445-4141″ fax="414-449-4748″ email="info@christensenroofing.com"]