Metro State Student Success Building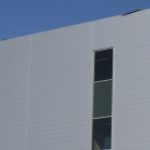 PROJECT DETAILS
Main Roof Assembly
Firestone ECO White 60 mil EPDM Fully Adhered-Upper Main Roof
Firestone Black 60 mil EPDM Ballasted-Lower Visible Roof Adjacent to the Green Roof.
Green Roof – Root barrier, insulation loose laid, drain board, moisture retention mat, 4″ FLL approved growing media,pre-grown succulent sedum mat installed in a custom design over the complete green roof assembly.
Custom perforated aluminum metal edging, black crushed granite and rainbow stone ballast design.
Sheet Metal Panels-20 ga pre-finished Firestone UC-500 Flush seam wall and soffit panel and sloped accent cove panels.
Aluminum Composite Wall Panels-Alpolic 4mm FR aluminum composite panel, custom shop fabricated.
Flat seam steel sheet metal roofing: 20 ga pre-finished Firestone Flat Lock Roofing panels. Sheet metal flashing and trim; 20 ga.
Pre-finished shop fabricated metal overall coping caps.
Due to the unique combination of material and aesthetic requirements, the owner, architect and general contractor relied heavily on Tecta's design capability to select systems and refine construction details. The partnership resulted in fewer constructability issues, and an improved final product. Sheet metal wall and soffit panels were the critical path of the schedule due to the civil work below. In order to complete the work on time Tecta staffed the project with fourteen sheet metal craftsmen, two shop fabricators, 135′, 60′ and 40′ aerial lifts, and four 42′ scissor lifts. ACM panels were fabricated in house due to the compressed exterior skin schedule. Only small areas were released to Tecta at a time, requiring 24 hour turn around form panel measurement to installation. Experienced panel fabricators and proper equipment in house facilitated the quick turn around. The owner required minimal oil canning on metal panels, and 20 ga.[stm_project_details style="style_2″ title="PROJECT DETAILS" css=".vc_custom_1428651906989{margin-bottom: 41px !important;}"][stm_project_details_item label="Operating Unit:" value="Tecta America Colorado"][stm_project_details_item label="Client:" value="Saunders Construction"][stm_project_details_item label="Industry Type:" value="Education"][stm_project_details_item label="Project Type:" value="New Construction, TectaGreen"][stm_project_details_item label="Location:" value="Denver, CO"][stm_project_details_item label="Square Footage:" value="73,590″][stm_project_details_item label="Systems Installed:" value="Singly Ply EPDM, Fluid Applied Roofing/Coatings, Metal, Architectural Sheet Metal, Green Roof"][/stm_project_details][stm_contacts_widget title="CONTACT INFO" address="1881 West 13th Avenue Denver, CO 80204″ phone="303-573-5953″ email="info.denver@tectaamerica.com" fax="303-573-3819″]