Lincoln Plaza North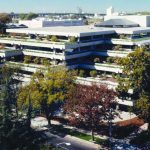 PROJECT DETAILS
This project was both unique and challenging. Most of the work took place inside of a California State Building, CalPers (perhaps the greenest roof in Sacramento), at an outside plaza patio with
tables, planters, stairs to a 2nd-floor deck, and a waterfall cascading down from the 2nd floor to the first. The problem was leaky waterproofing under the patio. The scope of work included removing over 650 existing 24″ x 30″ x 2″ thick concrete pavers, storing them off-site, removing the existing trees, flowers, and shrubs in planting areas and large concrete planters. Removal of the existing waterproofing – EPS insulation and EPDM roof. All removal had to be done at night and brought through the carpeted building, loaded onto trucks, and removed from the site. Each existing
concrete paver had to be marked and located on a roof plan before it was removed, palletized, and trucked back to Tecta's shop and stored for 2 months.
After pavers were removed, all insulation and EPDM roofing was torn off and removed throughout the building. After a month of General Contractor work, the new tapered roof insulation and
Fibertite PVC single-ply roofing had to be installed. Once complete the new roofing was water tested and ready for the old pavers to be re-installed. Again at night all 650 existing pavers stored
at Tecta's shop had to be transported to the site and carted into the building. These pavers were installed on top of adjustable paver pedestals in a staggered pattern. Getting the existing pavers to fit exactly where they were before was extremely challenging and required patience and muscle to complete. After the pavers were down, the new planter and planting areas were filled with drainage boards, filter fabric, soil, and plants the project was finished off with a nonskid paint stripe at each stair tread and a concrete sealer at all exposed concrete. When all was complete the waterfall was turned on and the tables brought back out for serving.[stm_project_details style="style_2″ title="PROJECT DETAILS" css=".vc_custom_1428651906989{margin-bottom: 41px !important;}"][stm_project_details_item label="Operating Unit:" value="Tecta America Sacramento"][stm_project_details_item label="Client" value="Lincoln Plaza North – California State Building, CalPers"][stm_project_details_item label="Industry Type: " value="Government"][stm_project_details_item label="Project Type:" value="New Construction, Reroofing/Replacement, Non-roofing"][stm_project_details_item label="Location:" value="Sacramento, CA"][stm_project_details_item label="Square Footage:" value="7,000″][stm_project_details_item label="Systems Installed:" value="Single Ply, TPO"][/stm_project_details][stm_contacts_widget title="CONTACT INFO" address="3257 Fitzgerald Road, Rancho Cordova, CA 95742″ phone="916-635-9921″ email=" info.sacramento@tectaamerica.com" fax=" 916-635-5429″]