Hillsborough County Courthouse Annex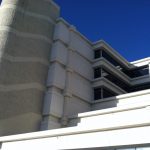 ABOUT HILLSBOROUGH COUNTY COURTHOUSE
The mission of Hillsborough County government is to provide useful quality service at a reasonable cost with courtesy, integrity, and accountability in a manner that protects and enhances the quality of life of our diverse population.
PROJECT DETAILS
Complete tear off of Gravel BUR on Concrete deck, on two multi-storied and multi-level roof areas.
Adhered a full tapered ISO Insulation package including a ½" hardboard cover.
Install a new Firestone; cold applied two-ply APP Mod Bit roofing system, including a premium FR Ultra White Cap Sheet
Furnish & install new pre-fabricated custom Metal-Era Stainless Steel sheet metal components
The project included working around a very rigid court system schedule.
[stm_project_details style="style_2″ title="PROJECT DETAILS" css=".vc_custom_1428651906989{margin-bottom: 41px !important;}"][stm_project_details_item label="Operating Unit:" value="Tecta America West Florida"][stm_project_details_item label="Client:" value="Hillsborough County"][stm_project_details_item label="Industry Type:" value="Governement (Local)"][stm_project_details_item label="Project Type:" value="Roof Replacement and Sheet Metal"][stm_project_details_item label="Location:" value="Tampa, FL"][stm_project_details_item label="Square Footage:" value="36,800″][stm_project_details_item label="Systems Installed:" value="2 Ply Modified Bitumen Torch"][/stm_project_details][stm_contacts_widget title="CONTACT INFO" address="5429 N. 56th Street Tampa, FL 33610″ phone="813-621-1700″ email="info.tampa@tectaamerica.com"]