High Museum of Art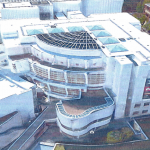 ABOUT THE HIGH MUSEUM OF ART
The High Museum of Art is a prominent landmark in the heart of Atlanta.
The High is the leading art museum in the Southeastern U.S. With more than 15,000 works of art in its permanent collection, the High has an extensive anthology of 19th- and 20th-century American and decorative art; significant holdings of European paintings; a growing collection of African American art; and burgeoning collections of modern and contemporary art, photography, folk art and African art. The High is also dedicated to supporting and collecting works by Southern artists.
PROJECT DETAILS
This project involved tearing off an existing ballasted system and going back with a fully adhered 50 mil Fibertite roof over DensDeck and ISO.
One unique test this job presented was how to safely access several small "eyebrow" roofs on the exterior of the building. Our solution was to utilize swing stages to get both men and materials into position.
Our primary challenge was to execute the scope of work in the center of a busy city while not disturbing the priceless exhibits beneath.
This project was a success thanks to the extraordinary coordination by our project team with the owner and consultant in order to maintain building operations as well as developing creative solutions to unusual challenges.[stm_project_details style="style_2″ title="PROJECT DETAILS" css=".vc_custom_1428651906989{margin-bottom: 41px !important;}"][stm_project_details_item label="Operating Unit:" value="Tecta America Southeast – Atlanta"][stm_project_details_item label="Client:" value="The High Museum of Art"][stm_project_details_item label="Industry Type:" value="Entertainment"][stm_project_details_item label="Project Type:" value="Re-Roof"][stm_project_details_item label="Location:" value="Atlanta, GA"][stm_project_details_item label="Square Footage:" value="17,000″][stm_project_details_item label="Systems Installed:" value="Fibertite 50 Mil Roof "][/stm_project_details][stm_contacts_widget title="CONTACT INFO" address="5085 Shiloh Road, Cumming, GA 30040″ phone="770-740-0018″ email="info.atlanta@tectaamerica.com" fax="770-740-0020″]