Daisy Brands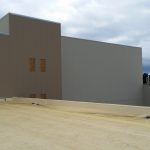 ABOUT DAISY BRAND
For more than four generations, Daisy Brand has been a family-owned company committed to providing the freshest, most wholesome dairy products. We trace our success to the roots of our company, which began only with a horse, a buggy, and a dream to provide the best products at a fair price.
PROJECT DETAILS
New installation of Fibertite KEE Membrane white roof.
Special ISO insulation used that has mold inhibiting properties to control mildew in refrigerated areas of the dairy product processing plant.
Rhinobond and fully-adhered method of attachment
One roof section is a roof in a colder area (refrigerated area) which becomes more like a building envelope than just a roof. The issue of indoor air being cooler than outdoor air involves different detailing and needs to be airtight to keep condensation from happening.
Standing seam metal roofs on canopies throughout the facility.
[stm_project_details style="style_2″ title="PROJECT DETAILS" css=".vc_custom_1428651906989{margin-bottom: 41px !important;}"][stm_project_details_item label="Operating Unit:" value="Schwickerts, A Tecta America Company"][stm_project_details_item label="Client:" value="Daisy Brand"][stm_project_details_item label="Industry Type:" value="Manufacturing, Food Processing"][stm_project_details_item label="Project Type:" value="New Construction"][stm_project_details_item label="Location:" value="Wooster, OH"][stm_project_details_item label="Square Footage:" value="446,700″][stm_project_details_item label="Systems Installed:" value="Fibertite KEE Membrane"][/stm_project_details][stm_contacts_widget title="CONTACT INFO" address="330 Poplar Street, Mankato, MN 56001″ phone="507-387-3101″ email="info.mankato@tectaamerica.com" fax="507-387-4688″]