Shrine Church of St. Stanislaus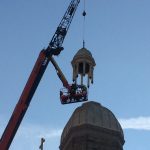 The twin bell and clock towers of the historic St. Stanislaus Catholic Church are a familiar landmark to commuters driving on Interstate 94 on Milwaukee's south side. But many of those drivers probably noticed a change in December when the tops of the tower domes were removed for restoration.
The removed structures, each 19 feet tall, are now inside of the buildings at F.J.A. Christiansen Roofing Co., as part of a church restoration project. Each will be resurfaced in copper. The tops of each tower, which the domes sit atop, also will be copper clad, but that work will be done onsite with access via scaffolding. New crosses for the tops of each tower and new cornices are being fabricated.
In what FJAC vice president Don Walter called a very delicate and deliberate process, the structures were slowly taken down over two days in early December. With the tower height of 163 feet, FJAC utilized a 180-foot boom crane, as well as a manlift to detach the structures and lower them to Fifth Street, which was closed for the procedure.
Each tower's 6.5-foot-high sheet metal crosses were detached and removed first. Facing windy conditions, removal crews wrapped a strap around the crosses to stabilize the manlift while the crosses were being freed.
With the crosses removed, a cable was threaded through an existing pipe and then attached to a turnbuckle created to safely lift the structures off the domes. Each composition was unbolted, lifted off support tubes, and brought down to street level. The tubes were sealed to keep out water.
With their legs secured via a specially built frame, each structure was carefully laid on a flatbed truck and hauled to FJAC's facilities for the repair and restoration work through the coming months.
"The legs have to remain in the same position, so when we replace the structures, the legs can be repositioned onto their support tubes," said Todd Samuel, FJAC project manager. That also required a meticulous process of removing the structures from the flatbed and standing them upright for the restoration work in the FJAC shop. Once upright, scaffolding was set up on one side; the structures are being rotated for access to each section.
[Project Update from September 18, 2019.]
After a meticulous, months-long process, both of the church's refurbished copper domes were lifted high, set, and bolted into place — just as the church was originally built, almost 150 years ago.
"Three-thousand man-hours are going into this project," said Don Walter, vice president of FJA Christiansen Roofing.
"I never would have thought to see this day," said Abbe George Baird, St. Stanislaus clerical oblate. "It's truly providential. That's the best way to describe it."
Click here to read the article and watch the video.
[stm_project_details style="style_2″ title="PROJECT DETAILS" css=".vc_custom_1428651906989{margin-bottom: 41px !important;}"][stm_project_details_item label="Operating Unit:" value="F.J.A Christiansen Roofing Co., Inc"][stm_project_details_item label="Client" value="St. Stanislaus Catholic Church "][stm_project_details_item label="Industry Type: " value="Religious"][stm_project_details_item label="Project Type:" value="Restoration"][stm_project_details_item label="Location:" value="Milwaukee, WI"][stm_project_details_item label="Square Footage:" value="NA"][stm_project_details_item label="Systems Installed:" value="Maintenance"][/stm_project_details][stm_contacts_widget title="CONTACT INFO" address="2101 W. Purdue Street, P.O. Box 090350 " phone="414-445-4141″ email="info@christiansenroofing.com" fax=" 414-449-4748″]