Kirtland AFB Commissary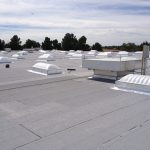 PROJECT DETAILS
This project consisted of the tear off and installation of a new SBS modified roof on the flat roofed portions of the building and installation of an adhered white EPDM roof over metal clerestories.
The flat roof portions of the building had an existing mineral capsheet roof over insulation on a metal deck. The new specification called for removal of the old roofing, repair of deteriorated decking and the installation of 2 layers of 2.5 inch polyisocyanurate insulation mechanically attached to the deck; a layer of ½ inch high density gypsum board adhered to the insulation in low rise adhesive and then a 2 ply SBS Modified Bitumen roofing system torch applied to the gypsum.
On the clerestory roofs and adjacent valleys, we removed the existing roofing system in the valleys, repaired decking as necessary and installed new insulation on the deck and adhered 90 mil white EPDM. On the corrugated metal roof of the clerestories, we mechanically attached a base layer of 1.5 inch polyisocyanurate to the metal panels and adhered a layer of ¼ inch high density gypsum board to the insulation. We then adhered 90 mil white EPDM membrane in place.
We replaced 60 skylights with new high efficiency skylights with safety guards.
We installed new stairway systems to provide access to the various roof areas.
The abatement of lead paint.
The removal of deteriorated stucco parapet caps.
We disconnected and re-installed the lightning protection system.
[stm_project_details style="style_2″ title="PROJECT DETAILS" css=".vc_custom_1428651906989{margin-bottom: 41px !important;}"][stm_project_details_item label="Operating Unit:" value="Tecta America Arizona"][stm_project_details_item label="Client:" value="GSA PBS Border Station PCBG"][stm_project_details_item label="Industry Type:" value="Government (Military)"][stm_project_details_item label="Project Type:" value="Reroof"][stm_project_details_item label="Location:" value="Albuquerque, NM"][stm_project_details_item label="Square Footage:" value="114,300″][stm_project_details_item label="Systems Installed:" value="GAF SBS Modified and Firestone White EPDM Fully Adhered"][/stm_project_details][stm_contacts_widget title="CONTACT INFO" address="1824 W. Broadway Road Phoenix, AZ 85041″ phone="602-246-8661″ fax="623-931-3061″ email="info.arizona@tectaamerica.com"]