Milwaukee County Transit System – Bus Garage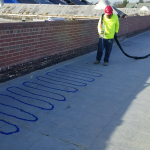 A long-serving Milwaukee County Transit System bus garage now has extended life, thanks to a roofing project that involved significant alterations to the existing system. The facility on Fond du Lac Avenue just northwest of downtown dated back 1915 and was completely rebuilt between 1981 and 1983. It has housed trolley buses, street cars and, more recently, rubber-tired buses seen across area streets and highways.
The roofing renewal project awarded to F.J.A. Christiansen Roofing Co. required more than the usual removal of existing roof system consisting of membrane, flashings, and insulation. The facility has four main roof areas, with an extended high-bay area on the largest of the roof sections. Along with the high bay, there were 23 skylights with concrete curbs. The skylights and the high bay had been spray-covered by FJAC with foam insulation years ago. The project called for the removal of the foam-covered skylights, removal of the foam on the high bay, and replacement of metal panels on the high bay, said Todd Samuel, a project manager with FJAC.
Steel structural support was installed in the gaps created by the removal of the skylights, along with decking to create a surface level with the existing decking, Samuel noted.
The high bay will remain sloped. After the tear-off of existing materials, new insulation was installed, to be covered with metal panels being fabricated in FJAC's Sheet Metal Department.
The Sheet Metal Department was also responsible for extensive lengths of coping and counterflashing, said Jeff Keller, Sheet Metal Department superintendent.
Along with existing roofing materials that needed to be removed was vegetation that was taking advantage of pooled water — and numerous seagull eggs that, because of their protected status, had to be specially removed.
Overall, the new roof system includes two layers of insulation – some tapered, with an adhered 60 mil EPDM membrane, helping the County get many more years of service from the garage.
Work began in August and is being completed this winter with coping, counterflashing, and the standing seam metal panels.
Mark Hamm served as FJAC's roofing superintendent, with Oscar Torres as roofing crew manager. Along with Jeff Keller as sheet metal superintendent, Paul Keller served as sheet metal foreman.
[stm_project_details style="style_2″ title="PROJECT DETAILS" css=".vc_custom_1428651906989{margin-bottom: 41px !important;}"][stm_project_details_item label="Operating Unit:" value="F.J.A Christiansen Roofing Co., Inc"][stm_project_details_item label="Client" value="Milwaukee County Transit System"][stm_project_details_item label="Industry Type: " value="Transportation"][stm_project_details_item label="Project Type:" value="Roof Replacement"][stm_project_details_item label="Location:" value="Milwaukee, WI"][stm_project_details_item label="Square Footage:" value="NA"][stm_project_details_item label="Systems Installed:" value="60 mil EPDM"][/stm_project_details][stm_contacts_widget title="CONTACT INFO" address="2101 W. Purdue Street, P.O. Box 090350 " phone="414-445-4141″ email="info@christiansenroofing.com" fax=" 414-449-4748″]