Wesley Manor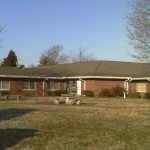 ABOUT WESLEY MANOR
Wesley Manor has been the leader in providing personalized care. As a non-profit organization, Wesley Manor has a distinct philosophy of care by being mission-driven rather than profit-driven. While newer facilities exist, the caring staff is what sets Wesley Manor apart from the rest.
The owners were interested in replacing the old roofs with a new continuous roof system that was more visually appealing to residents from the courtyard areas.
PROJECT DETAILS
The existing roofs at Wesley Manor were a mixture of gravel surface built-up roofing and shingles installed over a gypsum deck.
They decided on a new shingle roof system. The old roofs were removed and a new plywood decking system was installed over the existing gypsum structure. The new roof offers adequate air flow below the shingles and should provide the owners with the watertight and visually appealing roof system that they requested for many years.
[stm_staff name="SAFETY CONSIDERATIONS" description="Safety was a major concern on the project due to the fact that 50 men began their work day at 5 a.m. and worked around 300 skylights. To face this challenge Tecta Atlanta built skylight covers over all skylights in the work zone to allow for safe access. In addition, 7 large light stands were rented in conjunction with existing project lighting to turn night into day."][stm_project_details style="style_2″ title="PROJECT DETAILS" css=".vc_custom_1428651906989{margin-bottom: 41px !important;}"][stm_project_details_item label="Operating Unit:" value="Tecta America Kentucky"][stm_project_details_item label="Client:" value="Wesley Manor"][stm_project_details_item label="Industry Type:" value="Healthcare"][stm_project_details_item label="Project Type:" value="Re-Roof/Replacement"][stm_project_details_item label="Location:" value="Louisville, KY"][stm_project_details_item label="Square Footage:" value="60,000″][stm_project_details_item label="Systems Installed:" value="Shingle"][/stm_project_details][stm_contacts_widget title="CONTACT INFO" address="4045 McCollum Court Louisville, KY 40218″ phone="502-456-5848″ email="info.louisville@tectaamerica.com" fax="502-272-3902″]