Loma Linda University Medical Center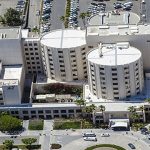 ABOUT LOMA LINDA UNIVERSITY MEDICAL CENTER
An outgrowth of the original Sanitarium on the hill in 1905, the present 11-story Loma Linda University Medical Center (LLUMC) opened on July 9, 1967. With the completion of the Loma Linda University Children's Hospital (LLUCH) in late 1993, nearly 900 beds are available for patient care, including at Loma Linda University Medical Center East Campus and Loma Linda University Behavioral Medicine Center (LLUBMC). Loma Linda University Health Care (LLUHC), a management service organization, supports the many programs and services provided by our 400+ faculty physicians.
PROJECT DETAILS
Tear off and roof replacement of four, multi-story hospital towers over concrete deck and penthouse replacement over steel deck was carried out over a 3 month period. This would include buildings 100, 200, 700, and 400 with a helipad.
The project required coordination and delivery of material by crane to a height of 80 feet to 120 feet.
Crane lifts were performed at night so as not to disrupt the flow of parking and also to maintain fire marshal safety standards and owner's insurance company installation requirements.
Specifications stressed the preferred application of cold applied, adhered system.
Scope of work included application layers of wood fiberboard, polyiso insulation board, Dens Deck, Garland Stress Base 80, modified bitumen Garland Stressply Plus, with a top coat of 4/5 mix gravel in flood coat.
Walk pads were installed at foot traffic areas.
Work completed on target and safely.
Tecta America Southern California, Inc. was also awarded an additional reroof at the medical center's helipad.[stm_project_details style="style_2″ title="PROJECT DETAILS" css=".vc_custom_1428651906989{margin-bottom: 41px !important;}"][stm_project_details_item label="Operating Unit:" value="Tecta America Southern California"][stm_project_details_item label="Client:" value="Loma Linda University Medical Center"][stm_project_details_item label="Industry Type:" value="Healthcare"][stm_project_details_item label="Project Type:" value="Re-roof, Replacement"][stm_project_details_item label="Location:" value="Loma Linda, CA"][stm_project_details_item label="Square Footage:" value="42,200″][stm_project_details_item label="Systems Installed:" value="Modified Bitumen"][/stm_project_details][stm_contacts_widget title="CONTACT INFO" address="1217 E. Wakeham Ave. Santa Ana, CA 92705″ phone="714-973-6233″ email="rsouders@tectaamerica.com" fax="714-973-6214″]