Jackson Moving & Storage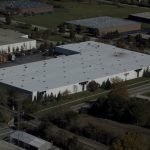 NEW OWNERS GET A NEW ROOF 
Illinois Roofing, a  Tecta America Company, the country's largest national roofing contractor, was tasked with reroofing the Jackson Moving & Storage facility.   The owners were selling the facility and part of the real estate agreement was to put a new roof on the building. A timely and professional reroofing installation was critical in ensuring that the transaction for change of ownership went through as planned and on schedule.
The project was large with an absolute due date. To ensure the project deadline was met Illinois Roofing utilized the assistance of personnel from one of our associate locations. The project was completed on time and with quality workmanship within 17 days.
THE PROJECT
Before the work even began on the Jackson Moving & Storage roof a thermal scan was conducted to determine whether or not a complete tear-off was necessary or if only the damaged wet insulation needed to be replaced. The color image to the right is an illustration of a thermal scan photograph taken of the roof.
A thermal scan is taken in the evening at dark when the temperature differences are noticeable.
When roofs have not deteriorated too badly and have minimal wet insulation the existing dry insulation can be kept in place and reused. Only the wet insulation needs to be replaced to match the existing level. The loose gravel is first vacuumed off the roof. Next, a single layer of 1.25 lb. density expanded polystyrene (EPS) slip-sheet insulation which has an "R" value of 1.5 is attached over the entire existing area. A new roof membrane can then be installed over the entire roof surface area. Reusing the dry insulation results in a significant savings.
The Jackson Moving & Storage roof is an example of the quality results the Illinois Roofing team accomplished in this process. The roof is new and saved the customer a significant amount of time and money versus a complete roof tear-off. From an environmental perspective this roofing practice also saves from adding debris to growing landfills. Most importantly, this new roof will keep the building for the new owner dry for years to come.[stm_project_details style="style_2″ title="PROJECT DETAILS" css=".vc_custom_1428651906989{margin-bottom: 41px !important;}"][stm_project_details_item label="Operating Unit:" value="Tecta America Illinois Roofing"][stm_project_details_item label="Client:" value="Jackson Moving & Storage"][stm_project_details_item label="Industry Type:" value="Industrial"][stm_project_details_item label="Project Type:" value="Re-roof "][stm_project_details_item label="Location:" value="Naperville, IL"][stm_project_details_item label="Square Footage:" value="170,000″][stm_project_details_item label="Systems Installed:" value="Recovered with 45 mil TPO Single Ply White Mechanically Fastened"][/stm_project_details][stm_contacts_widget title="CONTACT INFO" address="4813 Kingston Drive Lisle, IL 60532″ phone="630-554-2200″ email="info.illinois@tectaamerica.com" fax="630-449-4483″]