Block 16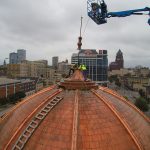 A unique copper-clad dome atop a significant new downtown Milwaukee building is now complete. F.J.A. Christiansen Roofing Co. crews recently installed a 14-foot-tall spire atop the dome.
The spire has an aluminum frame and stainless steel structure clad with copper to match the dome at the building, known as Block 16, at the corner of Water Street and Knapp Street.
FJAC crews, working in coordination with general contractor Miron Construction, used a crane to raise the spire and secure it to the dome in a water-tight manner.
"The Miron people were looking for a clean installation promptly, and we accomplished that," said Max Bade, project manager at FJAC.
While the spire was crafted by a Texas firm, all the cladding on the dome was crafted by FJAC's Sheet Metal Department, under the direction of sheet metal superintendent Jeff Keller and sheet metal foreman Paul Keller.
As copper is a conductor of electricity, the spire contains a lightning rod to redirect any lightning strikes to the building's structural steel.  The finished dome exterior provides a striking presence in a city filled with unique structures, now including this handsome addition at Water & Knapp.[stm_project_details style="style_2″ title="PROJECT DETAILS" css=".vc_custom_1428651906989{margin-bottom: 41px !important;}"][stm_project_details_item label="Operating Unit:" value="F.J.A Christiansen Roofing Co., Inc"][stm_project_details_item label="Client" value="Block 16″][stm_project_details_item label="Industry Type: " value="Business"][stm_project_details_item label="Project Type:" value="Restoration"][stm_project_details_item label="Location:" value="Milwaukee, WI"][stm_project_details_item label="Square Footage:" value="NA"][stm_project_details_item label="Systems Installed:" value="60 mil EPDM"][/stm_project_details][stm_contacts_widget title="CONTACT INFO" address="2101 W. Purdue Street, P.O. Box 090350 " phone="414-445-4141″ email="info@christiansenroofing.com" fax=" 414-449-4748″]