The Pentagon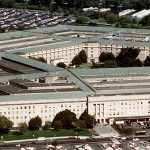 ABOUT THE PENTAGON
The Pentagon is the headquarters of the United States Department of Defense, located in Arlington County, Virginia. As a symbol of the U.S. military, The Pentagon is often used metonymically to refer to the U.S. Department of Defense.
PROJECT DETAILS
Tecta America teamed with the owner, consultant, and 3rd party safety officer to successfully complete this demanding project. Mobilization occurred at the Southeast Corner of Wedge 4 with staging, a debris chute, access walkways, and ramps to access 260,000 SF of BUR roof replacement and 28,000 square feet of Slate Replacement. The BUR re-roof included removing and disposing of slag, 4 plies of coal tar pitch, repairing the lightweight gypsum concrete, mopping 4 plies of coal tar pitch, installing slag. In order to restore the slate to its original glory, workers salvaged the existing Vermont Unfading Green Slate, removed and disposed of the remaining roof system which consisted of plywood sheathing, underlayment, catwalks, and architectural sheet metal. The plywood sheathing and catwalks were then re-built and leveled, similar architectural sheet metal was fabricated and installed, and the salvaged slate was installed. This project was completed on time and within budget with no safety incidents or accidents reported.
This was a particularly high-profile project with very specific restoration requirements. Tecta and its partners worked seamlessly to achieve the desired outcome of the client – the Department of Defense. Negotiations and evaluations were ongoing as the client reassessed the scope of the work following the award. Tecta worked closely with all parties to develop and maintain accurate schedules and manpower assignments. Security and safety were also key issues that were addressed to the satisfaction of the client. At all times Tecta completed the work in compliance with contract requirements, technical expertise, and consultation.
 [stm_project_details style="style_2″ title="PROJECT DETAILS" css=".vc_custom_1428651906989{margin-bottom: 41px !important;}"][stm_project_details_item label="Operating Unit:" value="Tecta America East Baltimore"][stm_project_details_item label="Client:" value="Washington Headquarters"][stm_project_details_item label="Industry Type: " value="Government"][stm_project_details_item label="Project Type:" value="Re-roof"][stm_project_details_item label="Location:" value="Washington, DC"][stm_project_details_item label="Square Footage:" value="260,000″][stm_project_details_item label="Systems Installed:" value="Built up roof"][/stm_project_details][stm_contacts_widget title="CONTACT INFO" address="5220 Pennington Avenue Baltimore, MD 21226″ phone="410-319-0300″ email="info.baltimore@tectaamerica.com" fax="443-853-1565″]