Butler University – CTS Building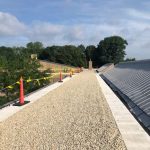 OVERVIEW
Butler University is a private university located in Indianapolis, IN. The building is used for Seminary students.
PROBLEM
The roof had exceeded its expected service life, and the client was concerned about the interior of the building if the roof failed.
SOLUTION
The roof consisted of a four-ply coal tar roof adhered to a gypsum deck. On top of the existing original roof, a 1/2″ Extruded Polystyrene board was loose laid, and then an EPDM membrane was installed on top of the insulation
(loose laid). Lightweight concrete pavers were utilized as ballast. These 60,000 sf of pavers were repurposed w/a recycler (not placed in a landfill).
We mechanically fastened a base sheet to the existing Gypsum deck and then adhesively adhered a 2 ply modified roof system by Siplast. The base flashings comprised of the same material, unless the base flashing height was lower than 8″ – then liquid flashing was utilized. Between the two plies of the membrane, we installed an EFVM system to help detect leaks in the future. On top of the membrane, we installed drainage mat, 3″ of Extruded Polystyrene, Filter Fabric and River Rock ballast and pavers.
PLANNING
The original bids came in over budget. We worked with the manufacturer, architect, roof consultant, and owner to come up with an alternative system that would produce the same results at a lesser cost without jeopardizing
the design integrity. In a roof system of this age, a lot of unknowns are discovered during the process we designed, with the consultants' and owner's approval, solutions to multiple design conditions.
FOLLOW UP
We will have an observation meeting in June of 2020 and 2021 to inspect the roof for any issues that might arise while the roof is under our two-year workmanship warranty. An owner's manual has been delivered, and preventative maintenance options have been offered. Waiting approval.
SAFETY AND SECURITY 
The roof was multiple levels. Safety Flags and Parapet clamps were set in roof work areas, as well as paths were designated to and from the work areas. On edge work, our workers maintained a 100% tie-off work site.
Security was provided mostly by the university. We did secure our telehandler and other equipment in a locked fenced area (adjacent to the building on the ground).[stm_project_details style="style_2″ title="PROJECT DETAILS" css=".vc_custom_1428651906989{margin-bottom: 41px !important;}"][stm_project_details_item label="Operating Unit:" value="Fort Wayne Roofing, a Tecta America Company"][stm_project_details_item label="Client:" value="Butler University "][stm_project_details_item label="Industry Type:" value="Education"][stm_project_details_item label="Project Type:" value="Roof replacement"][stm_project_details_item label="Location:" value="Indianapolis, IN"][stm_project_details_item label="Square Footage:" value="60,000″][stm_project_details_item label="Systems Installed:" value="Siplast 2 ply 20/20 IRMA System"][/stm_project_details][stm_contacts_widget title="CONTACT INFO" address=" 4320 Ardmore Ave, Fort Wayne, IN 46802″ phone="260-422-9529″ email=" info@fortwayneroofing.com"]