Avera Cancer Institute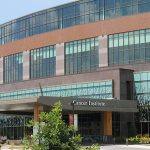 Project Details:
We installed an adhered 60 Mil TPO roof system on this project, with a tapered insulation system consisting of: 725TR Air & Vapor Barrier, Tapered ISO, and DensDeck Prime.
We installed plate aluminum wall panels on the canopies and entrance vestibules.
We installed a corrugated metal wall panel at the penthouse location.
We installed Trespa around the columns at the canopies.
We utilized Metal-Era fascia to help follow the curved wall construction.
[stm_project_details style="style_2″ title="PROJECT DETAILS"][stm_project_details_item label="Operating Unit:" value="ARS"][stm_project_details_item label="General Contractor:" value="Sioux Falls Construction"][stm_project_details_item label="Completion Date:" value="09/27/2010″][stm_project_details_item label="Industry Type" value="Health Care"][stm_project_details_item label="Project Type" value="New Construction"][stm_project_details_item label="Location:" value="Sioux Falls, SD"][stm_project_details_item label="Square Footage:" value="57,060″][stm_project_details_item label="System Installed:" value="Adhered TPO Roof System, Live Roof System, Plate Aluminum Wall Panels, Corrugated Metal Wall Panels, Trespa Wall Panels, Metal-Era Fascia"][/stm_project_details][stm_contacts_widget title="ARS, A Tecta America Commercial Roofing Company" address="1010 S. Commerce Avenue – PO Box 39, Sioux Falls, SD 57101″ phone="605-332-1698″ fax="605-336-7696″ email="jziebarth@tectaamerica.com"]