Aurora St. Luke's Rooftop Healing Garden and Conservatory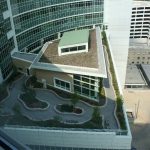 ABOUT AURORA ST. LUKE'S ROOFTOP HEALING GARDEN AND CONSERVATORY
While most hospitals have outdoor areas for patients to visit, many bed-bound individuals are excluded from this benefit. The designers of the healing garden at Aurora St. Luke's have ensured that even patients confined to their hospital beds can get out of their rooms and experience the outdoors. The pathways in the healing garden vary from five to eight feet allowing hospital beds can be wheeled through the garden.
Healing at Aurora St. Luke's Medical Center is now going on outside the south side Milwaukee hospital as well as inside, thanks to the development of a rooftop garden and vegetative roof. "We want our patients and their families to have a tranquil, calm oasis they can come to when they are at the hospital," said Mary O'Brien, the chief administrative officer for Aurora St. Luke's.  "They come to us for medical care to heal their bodies.  This garden gives them a place to find spiritual healing as well."
PROJECT DETAILS
"The Tecta Green team at FJAC played an integral role in the creation of the garden and green roof," noted Sales Manager Don Walter. On the eighth floor, rooftop is an outdoor vegetative roof, developed in the extensive system (average soil depth of about 4") with a variety of sedum plants surrounded by pavers. The garden itself was planted in the intensive style (typical soil depth of 6" or more), with a variety of sedums along with shrubbery and trees.  In all, the garden and vegetative roof contain more than 1,900 plants.
The indoor conservatory was built in the center of the garden and has a tower that brings additional light into the structure, all surrounded by a vegetative roof. The plantings and growth medium were placed over two layers of insulation, a drainage layer, a root barrier, rubberized asphalt waterproofing and a DensDeck substrate.  "The results are fantastic," says Don Tendick Jr., the design committee chair, and a major healing garden donor.  "My favorite part will be seeing people enjoy it."
The Vince Lombardi Charitable Funds provided $1.5 million toward the $4.9 million project, and the Agnes and Moreland Hamilton estate donated $1.7 million.
Other notable Tecta Green projects installed in the area by FJAC include the City of Milwaukee's 809 North Broadway building, City of Milwaukee Central Library, the University Club Tower, Discovery World at Pier Wisconsin, the Grohmann Museum of the Milwaukee School of Engineering, UWM – Golda Maier Library and one of the buildings at FJAC's Milwaukee facility.[stm_project_details style="style_2″ title="PROJECT DETAILS" css=".vc_custom_1428651906989{margin-bottom: 41px !important;}"][stm_project_details_item label="Operating Unit:" value="F.J.A. Christiansen Roofing, A Tecta America Company"][stm_project_details_item label="Client:" value="Aurora St. Luke's Medical Center"][stm_project_details_item label="Indsutry Type:" value="Healthcare"][stm_project_details_item label="Project Type:" value="New Construction"][stm_project_details_item label="Location:" value="Milwaukee, WI"][stm_project_details_item label="Square Footage:" value="NA"][stm_project_details_item label="Systems Installed:" value="Vegetative/green and pavers, hot fluid-applied membrane"][/stm_project_details][stm_contacts_widget title="CONTACT INFO" address="2101 W. Purdue Street, Milwaukee, WI 53209-0350″ phone="414-445-4141″ fax="414-449-4748″ email="milwaukee@christiansenroofing.com"]