8001 Tower Main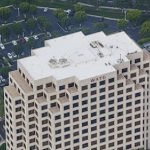 ABOUT IRVINE OFFICE SPACE
This project was done on a high rise commercial building in Irvine, CA
PROJECT DETAILS
The main roof specification was 3-ply Johns Manville modified with Top Gard 500 coating.
The lower decks specification was the IRMA system of Johns Manville PVC fleece-backed 80 mil membrane. 1″ extruded polystyrene and 2'x2′ pavers.
The upper deck cool roof required re-application of the building's address which was completed using Johns Manville applied torch with a white, reflective coating, and black stenciling.
SAFETY CONSIDERATIONS
Safety and Security were two major issues not only with Tecta America but with the customer. All employees were security badged and allowed roof entry through the 15 story service elevator. Fall protection tie-off was carefully adhered to. Material loading and offloading were carried out by a large aerial crane which was staged at a cul-de-sac adjacent to the building so as not to interrupt parking and traffic flow. There were no reportable incidences. The job was completed within the designated contract time and well within budget. The 8001 Tower project could be submitted as "Best Safety Project" AND "Best Reroof (non-ES)".[stm_project_details style="style_2″ title="PROJECT DETAILS" css=".vc_custom_1428651906989{margin-bottom: 41px !important;}"][stm_project_details_item label="Operating Unit:" value="Tecta America Southern California"][stm_project_details_item label="Client:" value="8001 Tower Main & Raised Roof"][stm_project_details_item label="Industry Type:" value="Commerical"][stm_project_details_item label="Project Type:" value="Re-roof, Replacement"][stm_project_details_item label="Location:" value="Irvine, CA"][stm_project_details_item label="Square Footage:" value="19,800″][stm_project_details_item label="Systems Installed:" value="Modified Bitumen, Single Ply PVC"][/stm_project_details][stm_contacts_widget title="CONTACT INFO" address="1217 E. Wakeham Ave. Santa Ana, CA 92705″ phone="714-973-6233″ email="rsouders@tectaamerica.com" fax="714-973-6214″]