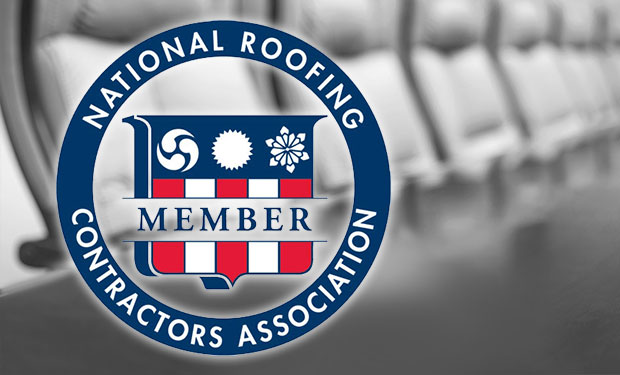 After joining NRCA in 1987 and becoming a founding member of The Roofing Industry Alliance for Progress, Kent Schwickert, senior vice president—national business unit for Tecta America Corp., Mankato, Minn., decided to get more involved in association work.
"Initially, I joined NRCA to increase my knowledge of the roofing industry," he says. "In 1982, I started at our company and was working in mechanical estimating and project management. I then was promoted to operations manager and needed more exposure to the roofing industry. After attending an NRCA convention and participating in the Alliance in its infancy, I appreciated the efforts of associations and the work they do for the industry."
Since then, Schwickert has served on the Alliance's Finance and Financial Development Committee, NRCA's Insurance Board of Governors and multiple NRCA committees, including the Contractor Management, Education Operating, Membership and PAC Advisory committees. He's also served as a director on the National Roofing Legal Resource Center's board of directors from 2000-03 and 2008-09 and has served three terms as an NRCA director during the years 1999- 02, 2003-04 and 2010-13. During 2004-06, he served as a vice chairman. And during 2016-17, Schwickert will serve as NRCA's chairman of the board-elect, next in line for chairman of the board.
"It is an honor to be elected to serve the association," Schwickert says. "I'm especially excited to be involved at a critical period where the association is going through changes and enhancing its offerings to members."
Earlier this year, NRCA amended its bylaws to allow NRCA to seek and include other stakeholders, such as manufacturers and distributors, to be voting members and be eligible for leadership positions. In addition, the association launched a certification training initiative for field roofing workers while also managing the transition in CEOs from Bill Good to Reid Ribble. With so many changes, Schwickert says Ribble and Jim Barr, NRCA's chairman of the board, will need all the help they can get.
"We are going through many changes at NRCA this year," Schwickert says. "The association has many initiatives in play, and Reid and Jim will need support to be successful. I am here to help them in any way I can."
As chairman of the board-elect, Schwickert would like to see the association fine-tune its strategic goals while improving its bottom line.
"I'd like to sharpen the lens and get the association to focus on the initiatives that can most positively affect members," he says. "At
the same time, these initiatives need to be capable of improving the financial viability of NRCA for many years ahead."
When he's not working at his company or volunteering for NRCA, Schwickert enjoys spending his free time with his wife, Jane; son, Ian, 22, a senior at the University of St. Thomas, St. Paul, Minn., and captain of the school's baseball team; daughter, Greta, 20, who currently is training to compete in equestrian events and planning to attend the University of Minnesota, Minneapolis, this fall; and his dogs, Mya and Bentley.
Schwickert and Jane have been married for 28 years, and in addition to raising a family together, the couple owns, oversees and directs a winery and distillery in Kasota, Minn.
"Jane is the general manager of the winery," he says. "And she's really good at it."
According to Schwickert, his NRCA membership and volunteer service has provided him with many benefits beyond staying informed with industry news.
"Building long-lasting friendships has to be the No. 1 thing NRCA has given to me," he says. "But it's also provided me with an appreciation for the enormity of the industry and the effects the association is having around the world."
Schwickert says he is grateful for the opportunity to continue his volunteer work and looks forward to his new leadership role as NRCA's chairman of the board-elect.
"It is an honor to serve," he says. "And it's an honor to give back to an association that has given so much to me and the industry."