ARS, A Tecta America Company, LLC provides a wide range of metal solutions to fit the unique needs of our customers.  We fabricate custom metal ranging from basic roof flashings to historical restorations, and provide metal wall panels from industrial to contemporary design.
Our metal team is filled with knowledgeable experts with years of experience in the sheet metal field.  Having the ability to use the most state of the art tools and technology give us the ability to cut, sheer, form, solder, and fabricate a wide variety of metals.  Giving us the edge over our competitors to come through in the clutches to meet your sheet metal needs.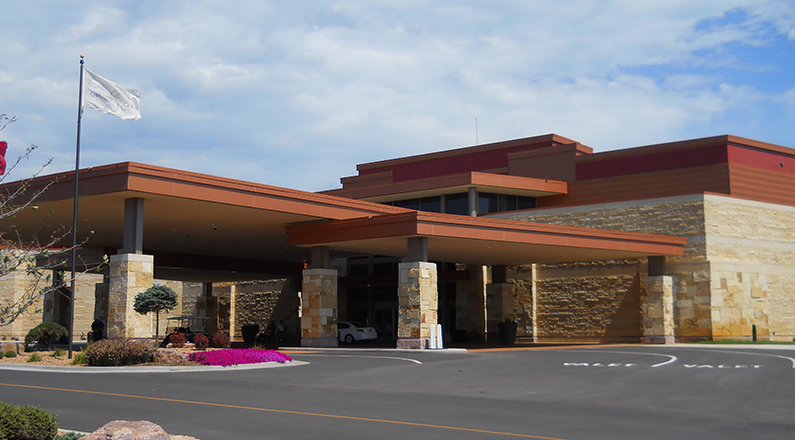 Aluminum Composite Panels
Grand Falls Casino & Resort, Larchwood, IA, 2011
Aluminum Composite Panels (ACM) are the ideal product for a wide variety of architectural needs. ACM sheets are manufactured with two sheets of coil-coated aluminum, brushed aluminum, zinc, stainless steel or copper material, with a fire-resistant mineral core that has a higher resistance to fire. Large flat sheets can be fabricated into various panel sizes and shapes to meet the customer's unique needs for their projects. ARS, a Tecta America Company is able to fabricate both Wet Set and Dry Set ACM panels using their AXYZ CNC router table.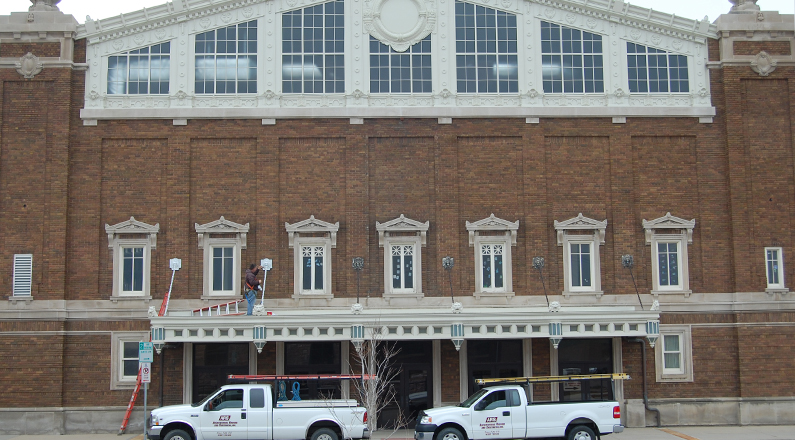 Architectural Sheet Metal
Sioux Falls Coliseum, Sioux Falls, SD 2010
Architectural sheet metal is the custom fabrication of metal flashings, trim, and sometimes ornate metals utilizing a multitude of materials. The metal types utilized range from conventional metals like steel and aluminum to high end materials like zinc, copper, lead, and metals with custom colored finishes.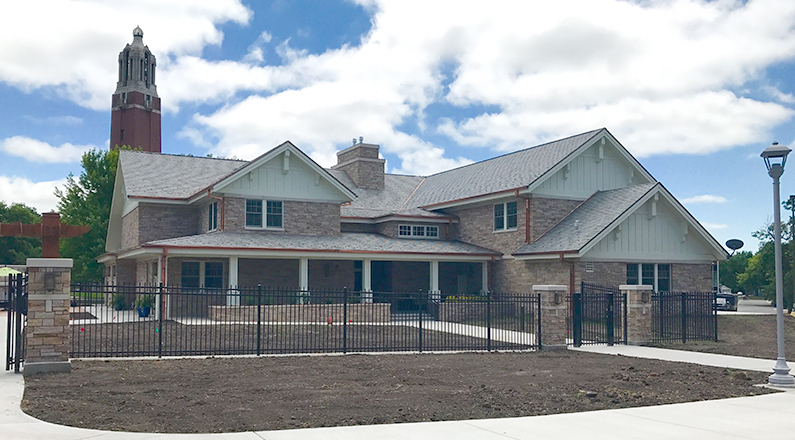 Gutters
SDSU University House, Brookings, SD 2017
Gutter systems are used to direct water drainage away from your building. ARS is capable of rolling out two types of continuous gutter systems. This allows us to supply gutters to a project at the maximum length, limiting the number of seams needed to complete the project. Limiting the number of seams helps prevent future issues with leaking from expansion and contraction of gutter system.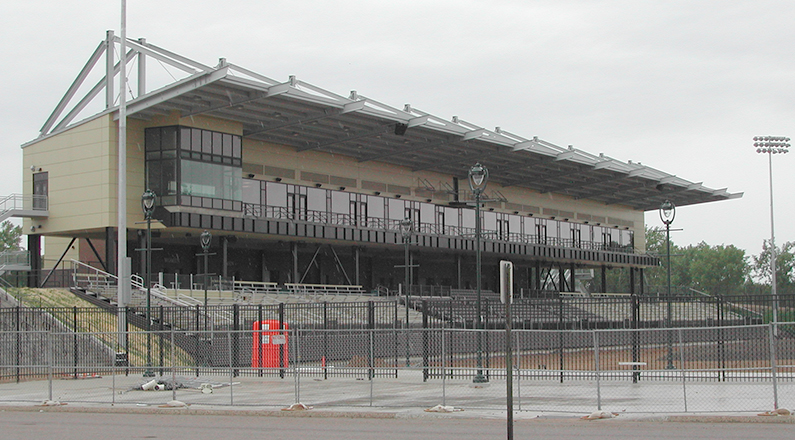 Insulated Panels
Southwest Minnesota State University, Marshall, MN 2008
Insulated metal wall panels come in various profiles, lengths, and thicknesses. Allowing you to select the perfect profile for your project or combine multiple profiles to create a unique look to your building.
Metal Roof
Metal roofing systems typically consist of concealed or exposed fastener systems. Metal roofing systems have matching metal trim and flashings. These systems are one of the longest lasting roof systems available when properly designed and installed.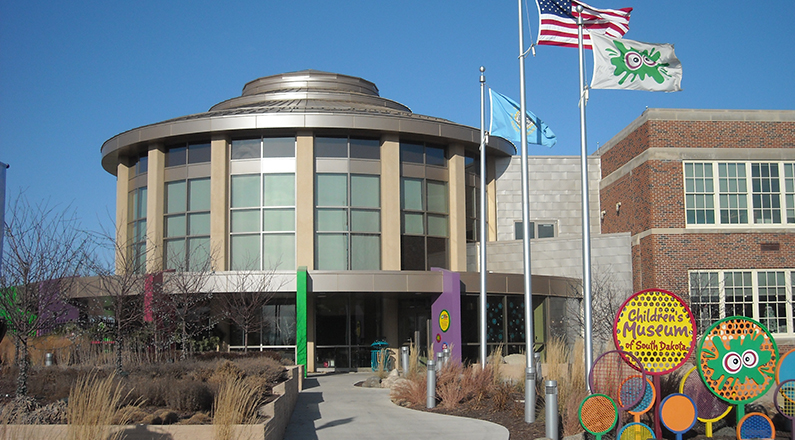 Plate Aluminum Panels
Children's Museum, Brookings, SD, 2011
Fabricated from 1/8" aluminum, Plate Aluminum Panels offer you a strong, rigid panel system. Using these panels offers you the ultimate design flexibility for exterior and interior applications. Once fabricated these panels are painted using a Kynar finish system to provide a long lasting product.
Longboard
Longboard aluminum siding offers residential & commercial applications a wood looking product that is 100% maintenance-free. It is available in three different profiles and solid or wood-tone colors. Longboard is non-combustible, extremely durable, and is easy to install.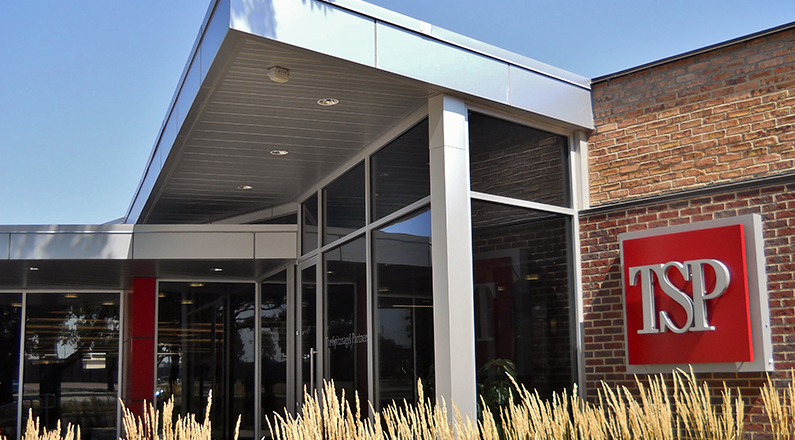 Soffit Panels
TSP Architects, Sioux Falls, SD, 2011
ARS, a Tecta America Company, LLC has the ability to roll form prefinished soffit panels to meet your specific needs. We have a roll former that we can bring right to the job site to roll continuous panels with no need to worry about shipping length restrictions. This gives us the flexibility to meet the customers need to have soffit panels greater than 50 feet.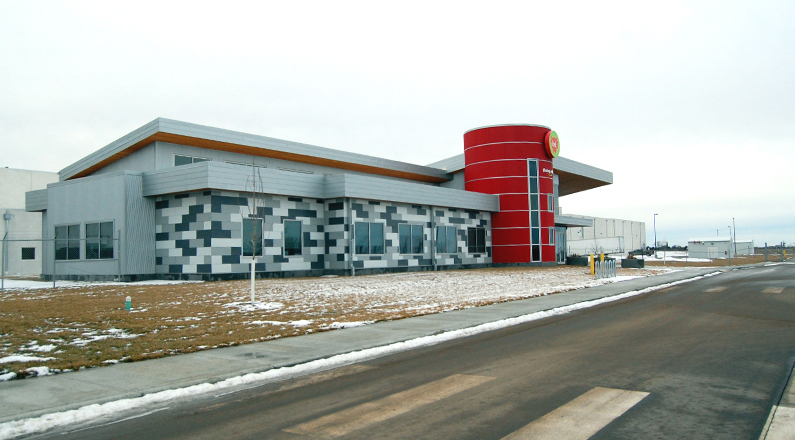 Flat Lock Panels
Bel Brands Office Facility, Brookings, SD, 2014
Flat lock panels are custom fabricated in our shop from various materials and thickness. We have fabricated panels from Steel, Copper, and Zinc to meet the needs of owners. These panels are a directional interlocking panel system which provides a unique look to the exterior or interior of any building.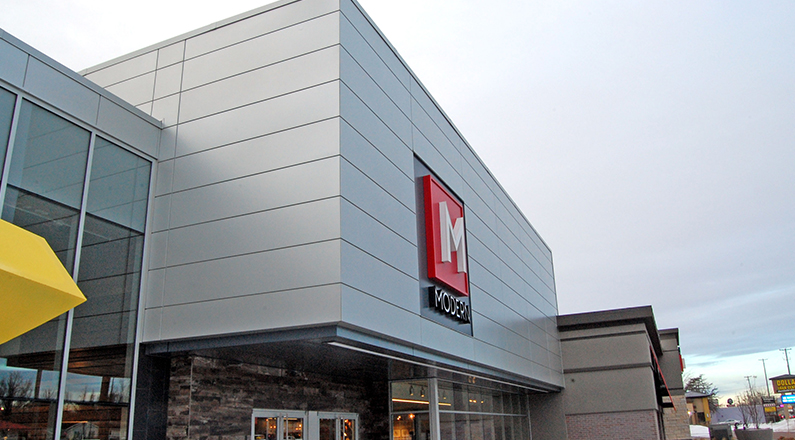 Dri-Design Panels
Montgomery Furniture, Sioux Falls, SD, 2014
Fabricated from .080 Aluminum, Dri-Design panels offer the ultimate design flexibility for exterior and interior applications. Panels are painted using industry leading Kynar based paints for long lasting finish and durability. These panels are an interlocking rain screen panel system, providing a consistent looking finish.