Tecta America Arizona Lends a Helping Hand to the Teen Challenge of Arizona, Inc. at Home of Hope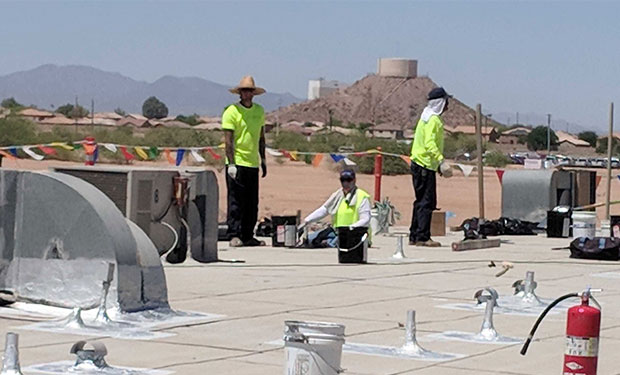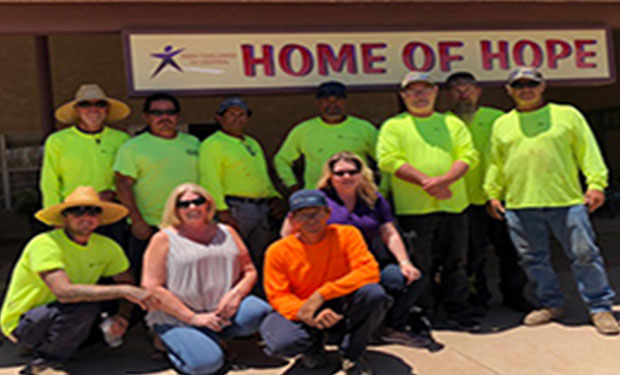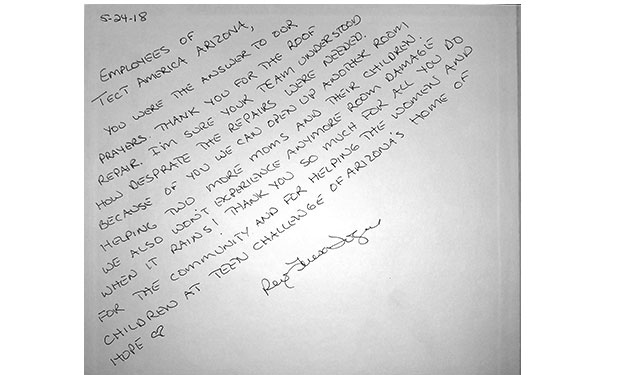 Tecta America Arizona recently donated its time to repair the roof on the Teen Challenge of Arizona at Home of Hope (TCAZ) facility in Casa Grande, AZ. A home of recovery for women and children, the building that provides a safe haven for its residents, was in dire need of help after sustaining weather-related damages in 2016. Damage to the roof prevented the use of several rooms within the structure, thus reducing the support TCAZ could provide.
The project was presented by the National Women in Roofing – Arizona (NWiRAZ) chapter as part of its mission of giving back to the local community. National Women in Roofing is a volunteer-based organization that supports and advances the careers of women roofing professionals. Its core values are mentoring, education, networking and recruitment. In keeping with those goals, the Arizona chapter supports those in the local community that are in need of assistance.  Rebecca Clements, member of NWiRAZ and Service Manager for Tecta America Arizona, gladly stepped in to help the TCAZ while working with roofing industry affiliates to make it happen. The team at Tecta volunteered their skill and time to repair the 30,000 square foot roof, and the needed material was generously donated by Glendale-based Elite Roofing Supply.
"We are proud to have been part of this project," commented Clements. "Tecta is committed to playing an active role in supporting the community, and when I was made aware of the need, we immediately jumped in to help."
Since opening its doors in 2003, the Teen Challenge's center in Casa Grande has helped over 1,100 women lead a life of sobriety and faith. To commemorate 50 years in 2008, Teen Challenge USA produced a book that details the decades of history of the program sharing many success stories of those that have graduated and moved on to better lives.
Center Director of TCAZ, Reverend Teresa Logue dedicated a copy of that book to the team at Tecta America Arizona saying, "Thank you for the roof repair. I'm sure your team understood how desperate the repairs were needed. Because of you, we can open up another room helping two more moms and their children."
About Teen Challenge of Arizona's Home of Hope: Teen Challenge is a faith-based organization that cares for women 18 and older, along with their small children in its Home of Hope. The Teen Challenge program enables them to overcome life-controlling addictions, restore appropriate family relationships, obtain and retain employment and become productive members of the community. For more information, visit www.tcaz.org or www.tcazhomeofhope.org.