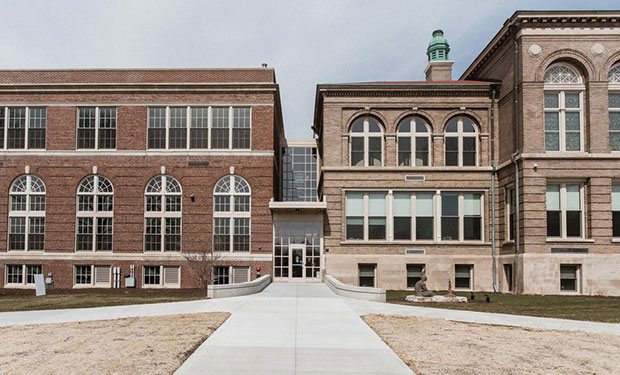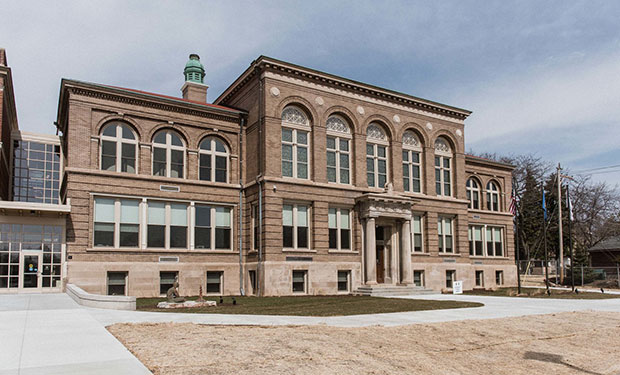 Since opening a Bingo hall in Milwaukee in 1991, the Forest County Potawatomi Tribe has continually invested in new development and redevelopment in the community. That ranges from its massive Potawatomi Hotel & Casino in the city's Menomonee Valley to projects elsewhere in the area, including a campus, once occupied by Concordia University on Milwaukee's near west side.
The tribe has owned the historic campus since 1990. Its buildings were leased to the Indian Community School until 2010 (when the school moved to Franklin) and now is known as the Wgema Campus – undergoing another major transformation.
Greenfire Management Services handled construction of ongoing redevelopment at the campus, including a project that benefited from F.J.A. Christiansen Roofing Company work, noted Dan Ott, FJAC Superintendent.
FJAC provided connector roofs between two buildings, including one that served as a chapel for Concordia but which was converted into space for tribal offices and operations. The structures, formerly known as Albrecht Hall and the Rickner Library, are now known as the Wget­thta Building, at 3136 W. Kilbourn Ave., according to Holl.
The Wgetthta Building, originally constructed in 1900, will now house the Forest County Potawatomi Executive Council, Foundation, Gaming Commission, Tribal Court, and Legal Department. Also, it has three different conference/gathering rooms that can be used for a multitude of purposes.
While the project area did not involve a vast area of square footage, it was complicated by architectural elements and the different styles of the two buildings being connected. Additionally, there were five different roof sections involved around the round ornate brickwork that posed flashing challenges to the FJAC team, Ott noted.
FJAC's sheet metal department, with Jeff Keller as sheet metal Super­intendent, had unique pieces to produce, with some of the pieces being designed as the roofing work was being done, Ott noted. "We had great cooperation with Greenfire Management Services on maintaining the integrity of the architecture of the historic structures, with the need to ensure the flash­ing work was done to warranty standards."
Upper portions of the roofing system included two-inch tapered insulation and EPDM mem­brane — with some sections in white.
Lower roof portions were designed as green roofs and were planted with a sedum mix last fall, and include an additional cover board to handle the weight of the planting system and water it absorbs, noted Don Walter, FJAC Vice President. Those areas are visible from the office space. About 200 square feet of the space has modular planters while another 300 square feet has decorative pavers.
Plantings remain cared for under a maintenance program, and this near west side facility stays connected to its past thanks to on-site project leadership of FJAC Service Crew Managers Don Engle and Doug Adams.