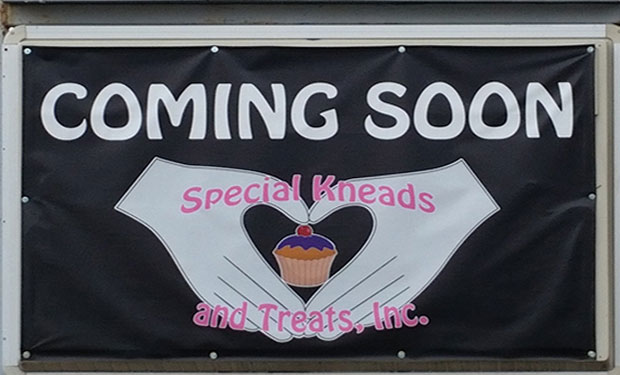 Special Kneads and Treats
Being a part of something "SPECIAL."
About Special Kneads and Treats
Special Kneads and Treats, Inc. has been operating since 2014.  They are 501c3 with a core mission to ensure that any child with a birthday and a family who cannot afford a birthday cake receives one FREE from them.
Presently employed are 13 special needs adults along with seven volunteers, with over 140 special needs adults waiting to have a place to work and receive a sense of pride and accomplishment.
What they do
Special Kneads and Treats provide valuable work experience and training to special needs adults, encouraging self-confidence, a sense of value and the opportunity to enjoy success and socialization. Sharing the love of Jesus Christ through caring, serving, equipping and educating, they cater to local Food Ministry Cooperatives, Elderly Care Facilities, Battered Women and Children's homes, Medically Fragile Children's Homes as well as many small locally owned businesses and community outreach programs.
Their program allows this special group of people an opportunity to provide for those less fortunate or in need with specialty baked goods and services. Profits from standard sales are injected back into community programs to further assist Special Needs awareness, research and many other areas of need. Special Kneads and Treats, Inc. provides support to disadvantaged children and adults living in impoverished communities in both the local area as well as similar cities across the U.S.A. and abroad.
Their program provides strategic partnerships between local business and government enterprises to these same communities. Special Kneads and Treats, Inc. facilitates the efforts of job skill training in the bakery by providing a safe environment for the workers and a resource center for individuals in the community while providing a holistic life skill development through love and caring for all residents in these same communities above.
They have had a wonderful two years and nine months, but now they believe that God has placed a new and bigger vision in their hearts.  They envision a more substantial facility more suitable for those requiring wheelchairs and walkers along with the ability to produce more products and being utilized as a distribution point – which in turn, would allow for more special needs employment and community outreach.
They have procured a mortgage on a larger 11,000 square foot facility about eight blocks from their current space on the Lawrenceville Square. This could open more special needs employment opportunities, include the ability to start shipping their product along with the capacity to handle larger contracted orders to sell their branded products.
This new building will serve as the base of operations with a full commercial kitchen that is entirely handicap accessible and provides greater services for those less fortunate within the surrounding areas.
Special Kneads sent a generic letter of introduction to area businesses seeking corporate support for help with roofing, HVAC, plumbing, electrical and interior modifications.
Tecta America Atlanta inspected the roof and determined that it needed to be replaced prior to the business relocating,  They donated all of their time and labor for this project. They were able to bring in other vendors, and suppliers donated the materials to the project.
Suppliers who donated:
CRS (Commercial Roofing Specialties) – donated roofing materials
Carlisle – donated roofing materials
D-MAC – donated metal decking for an area that had to be completely re-decked
Hopewell Roofing – Roofing materials and labor for a shingle section
Once the facility is in full swing, the longer term vision is that they are hopeful to have small storefronts around the surrounding communities where the higher functioning special needs can experience the opportunities of a retail-like storefront from their respective cities. The approach will bring more awareness to this wonderful and willing sector of the potential workforce. Future visions include replication of this model into other counties and across our great state and nation.
You can follow their progress and donate via a GoFundMe page: https://www.gofundme.com/SpecialKneadsRoof