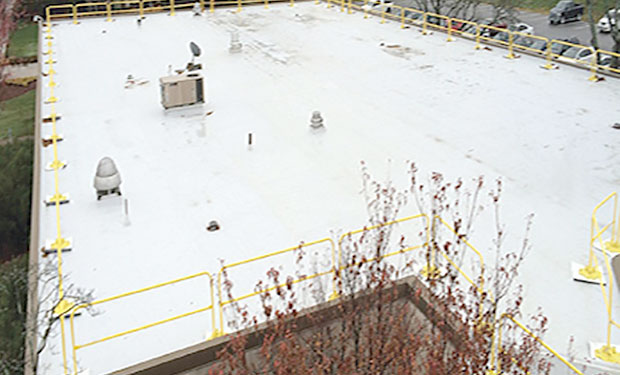 Anheuser-Busch Project Completed by Tecta America New England
The Anheuser-Busch administrative building in Merrimack, NH needed a new roof, as a significant amount of roof area was compromised and water was able to get through the existing roof system. A preliminary analysis using infrared thermographic imaging identified roof moisture and determined which sections needed work. Existing loose ballast and gravel material required to be removed to apply the new roof. After removing the old material, deteriorated steel decking and wet insulation were replaced.
Tecta America New England installed 16,500 sq. ft. of 1.5" Sarnafil Sarnatherm in conjunction with the existing insulation, increasing the R-factor to meet current building codes. Sika Sarnafil S327 RhinoBond roofing system was then applied over the insulation. Once completed, the Sika roofing system received a 20-year manufacturer's warranty. Because the owner was impressed with our work, we were asked to come up with a solution for a problematic canopy roof with many penetrations, drainage, and structural issues. Tecta designed a solution that, successfully alleviated the canopy problems. Also, the safety-conscious building owners chose to purchase and install the safety rails permanently once the job was finished.