Architectural Sheet Metal can provide highlights to every roof system.
A metal roof system provides the strength and durability of metal, with all the beauty of color schemes to accentuate a building's street appeal.
Professionally fabricated on our computer shear and brake – installed by craftsmen who understand that architectural sheet metal work not only must seal terminations on a roof system – they must enhance the beauty and value of it.
Architectural Sheet Metal Materials
Pre-finished steel w/20 year paint finish warranty
Pre-finished aluminum w/20 year paint finish warranty
Galvanized metal
Copper
Stainless steel
Terne coated stainless steel
Architectural Metal Roofing/Siding/Soffit Systems
Snap – lock standing seam metal roofing system
Double-lock standing seam roofing system
Batten seam metal roofing system
Flat-lock metal roofing/siding system
Flush seam & V-Groove soffit/siding system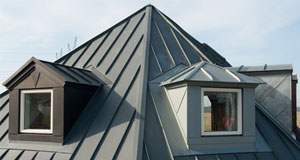 Custom Fabricated
 Gravel Stops
Edge Fascia
Gutters/Downspouts
Scuppers
Counter Flashings
All miscellaneous flashings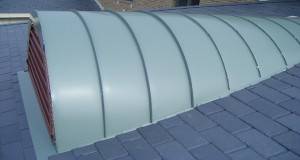 Features of Metal Roofing
Watertight
Lightweight
Quickly installed
Customizable
Reduced fire hazards
Manufacturer watertight warranties available
You have many options at your disposal
A variety of other services besides sheet metal roofs are available. These range from single-ply, TPO PVC, as well as modified bitumen and built-up roofing systems. Regardless, of your type of roofing, you also have access to roof repair.