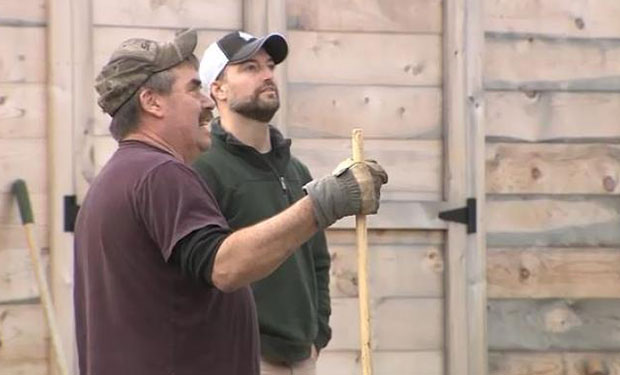 A group of volunteers in Washington County are giving back to a man who served his country well.
Thanks to Maine Veterans Project and some generous donations from two local companies, a veteran in Wesley now has a new roof just in time for winter.
"Literally, just the stars aligned on this one. We had plenty of volunteer help as you can see behind me."
Coming together to help those in need.
Byron Norton of Wesley received quite the surprise Friday.
A new roof.
"When you talk about something as daunting as a roof, I mean, the roof is the start and then you have the infrastructure of the house that starts to go when you don't replace the roof, so really this could be more prophylactic than anything, taking care of these needs," said Founder of Maine Veterans Project, Shawn Goodwin.
This is the 12th roof Maine Veterans Project has done this year.
Since 2015, the non-profit has been fixing roofs to help those who have given so much to our country.
"It's very important I feel to give back. It's something that our crew locally believes in, and being in such a strong presence of veterans in the state of Maine, I believe it's just the right thing to do."
Donnie Dyer of Wallboard Supply Co. and Williams Roofing of Brewer are no rookies when it comes to roof replacements for veterans.
"And that's when I decided that I needed to get involved, and I wanted to get my company involved to see what we could do to help him grow his cause," said Dyer.
Students from Washington Academy also helped out.
"This is the first time we've ever done something like this. It makes you feel good I guess, helping him out and keeping him warm in the winter," said Junior, Aidan Erickson.
These four are usually seen working on or around boats, but they say events like this get them out of their comfort zones while giving them a chance to get their hands dirty for someone special in their community.
"It makes me very proud that my students can actually help out with a veteran with his needs and he's older in life and retired, and needs a little extra help to get stuff cleaned up and get his house ready for winter," explained Shawn Schmitter, Marine Technologies & CAD Instructor at Washington Academy.
This crew says helping those who fought for the red, white, and blue is a great reward.
"Wherever there's a veteran with a need in this state, we'll be there to help them," said Dyer.