Montgomery Furniture Expansion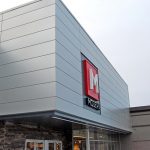 Project Details:
Over the existing building, we installed a retrofit TPO roof system with polyisocyanurate flute fill 1.5" polyisocyanurate and a White TPO roof system.
Over the new roof areas, we installed an adhered EPDM roof system with two layers of polyisocyanurate.
We installed Delta Series corrugated wall panels on the backside of the building.
We installed Dri-Design wall panel system over the window.
[stm_project_details style="style_2″ title="PROJECT DETAILS"][stm_project_details_item label="Operating Unit:" value="ARS"][stm_project_details_item label="Completion Date:" value="09/13/2014″][stm_project_details_item label="Industry Type" value="Public"][stm_project_details_item label="Project Type" value="Remodel"][stm_project_details_item label="Location:" value="Sioux Falls, SD"][stm_project_details_item label="Square Footage:" value="42,386″][stm_project_details_item label="System Installed:" value="EPDM Roof System, TPO Roof System, Delta Series Corrugated Panels, Dri-Design Panels"][/stm_project_details][stm_contacts_widget title="ARS, A Tecta America Commercial Roofing Company" address="1010 S. Commerce Avenue – PO Box 39, Sioux Falls, SD 57101″ phone="605-332-1698″ fax="605-336-7696″ email="jziebarth@tectaamerica.com"]