Washington University School of Medicine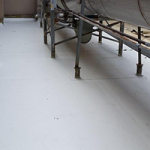 Project Scope:
Washington University School of Medicine in St. Louis, Mo, is consistently ranked among the top 10 medical schools in the country. The school's faculty physicians see patients at Barnes-Jewish  Hospital and St. Louis Children's Hospital, both of which are located on the Washington University Medical Campus.
The Medical Campus is also home to several buildings that house laboratories for research including the Clinical Sciences Research Building, which was constructed in the mid-1980s. In the late 1990s, the building was expanded and the North Tower Addition was constructed. The addition includes laboratory space where scientists in anesthesiology, immunobiology and cardiovascular research, among other areas, carry out their work.
This project involved removing approximately 4,000 sq. ft. of concrete pavers, roof membrane and saturated tapered insulation to expose the structure's concrete deck. As many of these roof items would be reused, RSS was responsible for field-verifying reusable components and adequately disposing of damaged parts.
After removing the existing roofing materials, RSS installed new tapered insulation, 80 mil Versico PVC white membrane, and reinstalled the concrete pavers. One new roof drain was added to improve drainage. Access to the 12th-floor cooling tower was limited, so RSS had to bring all material in carts through the loading dock, up an elevator, and through a penthouse door. All waste materials were transported out of the building in large wheeled bins in a similar manner.[stm_project_details style="style_2″ title="PROJECT DETAILS" css=".vc_custom_1428651906989{margin-bottom: 41px !important;}"][stm_project_details_item label="Operating Unit:" value="Roofing Services and Solutions"][stm_project_details_item label="Client" value="Washing University School of Medicine"][stm_project_details_item label="Industry Type: " value="Education"][stm_project_details_item label="Project Type:" value="Re-Roof"][stm_project_details_item label="Location:" value="St. Louis, MO"][stm_project_details_item label="Square Footage:" value="4,000 square feet"][stm_project_details_item label="Systems Installed:" value="80 Mil Versico PVC membrane"][/stm_project_details][stm_contacts_widget title="CONTACT INFO" address="1054 Central Industrial Drive St. Louis, Missouri 63110″ phone="314-633-4994″]