Springfield Mall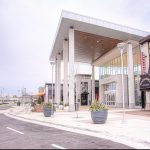 ABOUT THE SPRINGFIELD MALL
Springfield Town Center is located in Springfield, Virginia in Fairfax County, Virginia. The Census Designated Place (CDP) is a part of Northern Virginia, the most populous region of the Washington Metropolitan Area.
Springfield Town Center opened on October 17, 2014.
PROJECT DETAILS
27,000 Square Feet of Aluminum Composite Panels
3500 Square Feet of Phenolic Panels
Canopy Cladding
Pedestrian bridge fascia, column covers, and access portals.
[stm_project_details style="style_2″ title="PROJECT DETAILS" css=".vc_custom_1428651906989{margin-bottom: 41px !important;}"][stm_project_details_item label="Operating Unit:" value="Architectural Metals"][stm_project_details_item label="Client:" value="Whiting Turner Contracting Company"][stm_project_details_item label="Industry Type:" value="Retail"][stm_project_details_item label="Project Type:" value="Renovation"][stm_project_details_item label="Location:" value="Springfield, VA"][stm_project_details_item label="Square Footage:" value="30,500″][stm_project_details_item label="Systems Installed:" value="NA"][/stm_project_details][stm_contacts_widget title="CONTACT INFO" address="342 Commerce Drive, Glen Rock, PA 17327″ phone="717-428-7448″ email="bmcclelland@tectaamerica.com" fax="717-227-9360″]