7th and H Street Housing Community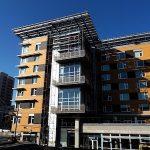 ABOUT 7TH AND H STREET HOUSING COMMUNITY
The 7th & H Housing Community is a mixed-use affordable housing development that provides 150 studio and one-bedroom apartments in an eight-story building; extensive community space, comprehensive resident services, a health clinic and ground floor commercial retail located in close proximity to public transit and a number of downtown amenities.
7th and H is designed to help meet many important goals of the City of Sacramento, the Sacramento Housing and Redevelopment Agency and Mercy Housing, including:
reducing homelessness through the provision of high quality, service-enriched housing in fulfillment of Sacramento's 10-Year Plan to End Chronic Homelessness
building affordable, safe, attractive workforce housing in the downtown area
creating a connection between the existing downtown neighborhood and the future Railyards development.
PROJECT DETAILS
7 story high rise in downtown Sacramento limited space for loading and unloading. Use mast climbers for most of the building then had to use 120 ft boom lifts.
Install AMC Composite panels 16ga sub-grits 2″EPS Insulation AEP Span PS-12 Wall Panel
16 ga hat channels and Metal Era copping Cap
 [stm_project_details style="style_2″ title="PROJECT DETAILS" css=".vc_custom_1428651906989{margin-bottom: 41px !important;}"][stm_project_details_item label="Operating Unit:" value="Tecta America Sacramento"][stm_project_details_item label="Client:" value="Mercy Housing of California"][stm_project_details_item label="Project Type:" value="New Construction"][stm_project_details_item label="Location:" value="Sacramento, CA"][stm_project_details_item label="Square Footage:" value="63,962″][stm_project_details_item label="Systems Installed:" value="Architectural Sheet Metal"][/stm_project_details][stm_contacts_widget title="CONTACT INFO" address="3257 Fitzgerald Road Rancho Cordova, CA 95742″ phone="916-635-9921″ email="info.sacramento@tectaamerica.com" fax="916-635-5429″]