Milwaukee School of Engineering -Grohmann Museum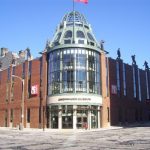 PROJECT DETAILS
Rooftop Sculpture Garden Adorns New MSOE Museum
Development of this facility involved one of the most exciting building renovations in the city in recent years.  It also included installation of one of the most exciting roofs in the city.  The museum, at 1000 N. Broadway in downtown Milwaukee, was developed within an 83-year-old structure that most recently served as a check clearing facility for the Federal Reserve Board.  The 38,000-square-foot structure was initially built in 1924 to house Metropolitan Cadillac, owned by Glenn Humphrey whose last name was also familiar to Milwaukeeans from his Chevrolet dealerships.  Unoccupied for a number of years, that all changed when MSOE regent Eckhart Grohmann donated funds to acquire and redevelop the building to house the extensive art collection he donated to MSOE.
Former Federal Reserve facility and Cadillac Dealership Repurposed for Unique Sculptures
Whether you are driving or walking by the corner of Broadway and State Street, you can't help but notice the museum's striking corner steel and cylindrical glass atrium and its rooftop sculptures.  But those dramatic rooftop sculptures are only a part of a unique rooftop sculpture garden created with the design/build help of F.J.A. Christiansen.  The dozen roofline sculptures are each about nine feet tall and weigh 1,000 pounds apiece.  Cast in bronze, they are replicas of smaller originals within the museum's collection.  Another six sculptures are strategically situated about the 10,000-square-foot rooftop garden, created for both relaxation and entertaining.
And a Unique Roof Installation
Several situations made it an exciting roofing project, noted Rob McNamara, F.J.A. Christiansen's President.  "It's a green roof, but one that has sod rather than the usual green roof plants," McNamara stated.  The statues amid the garden required unusual roof membrane placement.  And, perhaps most interesting, the tapered insulation system included an Electric Field Vector Mapping (EFVM) layer – a high-tech way to detect leaks.  The EFVM layer is a thin foil-faced sheet placed between the insulation and roof membrane and grounded to the roof drains.  When activated, the EFVM creates a low-voltage circuitry which can be monitored and the leak quickly located.
The roof membrane system utilizes a durable 80-mil PVC Sika Sarnafil product, well matched to the waterproofing needs below this green roof plaza.  "The garden statutes presented one of several unique project challenges," McNamara noted.  Before the statue bases were poured, a membrane had to be installed and flashing applied.  After the bases were in place, the roof's insulation layer was put down over the concrete deck, followed by the EFVM sheet and waterproofing membrane then sealed to the statue-base membrane.
But visitors to the roof won't see many hints of roofing materials.  They will encounter a garden setting that includes walkway pavers fanned out from the corner dome, large concrete pots with various plants, sod, and the statues.  "It's a fully functional roof from a building envelope standpoint that also looks like a very nice garden," McNamara said.  Protected from the elements above, the museum within is billed as home to the world's most comprehensive art collection dedicated to the evolution of human work.[stm_project_details style="style_2″ title="PROJECT DETAILS" css=".vc_custom_1428651906989{margin-bottom: 41px !important;}"][stm_project_details_item label="Operating Unit:" value="F.J.A Christiansen Roofing Co., Inc."][stm_project_details_item label="Client:" value="Milwaukee School of Engineering – Grohmann Museum"][stm_project_details_item label="Industry Type: " value="Education"][stm_project_details_item label="Project Type:" value="New Construction/Green Roof"][stm_project_details_item label="Location:" value="Fort Atkinson, WI"][stm_project_details_item label="Systems Installed:" value="Sika Sarnafil PVC Membrane; pedestal & pavers; green roof components and grass sod"][/stm_project_details][stm_contacts_widget title="CONTACT INFO" address="2101 W. Purdue Street Madison, WI 53209″ phone="414-445-4141″ fax="414-449-4748″ email="info@christensenroofing.com"]