VA Medical Center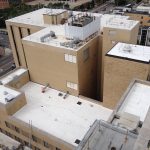 ABOUT THE VA MEDICAL CENTER
The Birmingham VA Medical Center is a 313-bed acute tertiary care facility located in the historic Southside district of the city. The facility provides acute tertiary medical and surgical care to veterans of Alabama and surrounding states.
The medical center serves as a referral center for this population area with 136 operating beds currently. Recent construction provides state-of-the-art facilities and equipment in all clinical programs. Care is provided in practically all medical and surgical specialties and subspecialties.
PROJECT DETAILS
Tecta America Southeast completed this project through a local general contractor, Coburn Contractors.  Tecta America had communication with the general contractor from start to finish of the project.
There was a total of 21 roof sections in our scope of work to be torn off.  The roof levels were torn off down to the concrete deck with a mixture of EPDM and modified bitumen roof systems over insulation or fiberboard.
Each roof can be accessed through hospital doors and windows.  During the project 40′ ladders were used to access roof areas.  Low parapet walls on a large portion of the project with a need for parapet safety railing systems.
 [stm_project_details style="style_2″ title="PROJECT DETAILS" css=".vc_custom_1428651906989{margin-bottom: 41px !important;}"][stm_project_details_item label="Operating Unit:" value="Tecta America Southeast – Birmingham"][stm_project_details_item label="Client:" value="United States Department of Veterans Affairs"][stm_project_details_item label="Industry:" value="Healthcare"][stm_project_details_item label="Project Type:" value="Re-Roof"][stm_project_details_item label="Location:" value="Birmingham, AL"][stm_project_details_item label="Square Footage:" value="29,500″][stm_project_details_item label="Systems Installed:" value="Modified Bitumen applied in cold proccess"][/stm_project_details][stm_contacts_widget title="CONTACT INFO" address="5578 Morgan St. Birmingham, AL 35210″ phone="205-836-2102″ email="info.birmingham@tectaamerica.com" fax="205-836-2150″]