NRCA Elects Kent Schwickert as its New Chairman of the Board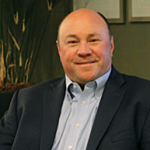 What does it mean to be a visionary leader? According to Warren G. Bennis, an American scholar widely regarded as a pioneer in the contemporary field of leadership studies: "Leadership is the capacity to translate vision into reality."
When visionary leaders know what the future can be, they build it. When they imagine a family hardware store turning into the largest nationwide operating unit, they make it a reality. When they see the possibility of creating a leading nationwide commercial roofing company, they strategically take big risks to make it happen. Visionary leaders have the foresight to create apprenticeship programs for the roofing industry's workforce, and they manifest an award-winning winery just for fun.
A visionary leader is Kent Schwickert, senior vice president, national business unit for Tecta America® Corp., Rosemont, Ill., and NRCA's 2018-19 chairman of the board.
"Kent is a visionary; he's a big idea guy," says Kevin Palmer, president of Schwickert's Tecta America LLC, Mankato, Minn. "He has a unique ability to bring smart and talented people together to get some large things done within time frames most people wouldn't have thought possible. He's always looking to be progressive and is interested in moving forward not only at our company but moving the roofing industry forward."
On June 1, Schwickert began his term as NRCA's chairman of the board and is ready to lead the organization through a busy, productive year.
"It's an honorable role," he says. "It's a position I've always looked up to, and I'm proud to be here."
An entrepreneurial beginning
The entrepreneurial spirit has been in the Schwickert family for generations. In 1906, Schwickert's grandfather, George, opened a hardware store near Mankato, Schwickert Hardware. Back then, it sold everything from household goods to hardware.
After serving in the U.S. Navy during World War II, around 1946, Schwickert's father, Leas, joined the family company. Schwickert's father was a Harvard University graduate who expanded the family company into full mechanical and roofing construction.
In 1981, Schwickert's older brother, Kim, chairman and chief operating officer for Schwickert's Tecta America, went to work for the company. After Schwickert graduated from the University of Minnesota, Twin Cities, Minneapolis, in 1982 with a degree in finance and economics, he also joined the family business.
"I wanted to be a stockbroker," he says. "But one day my brother called me and said: 'I'd really like you to come work here because we're growing, and we need you. It's going to take more of us.'"
When the Schwickert brothers assumed the family business, it was a $2 million company. Talents now combined, the Schwickert brothers became a powerful professional team with a unique balance of skills.
"My brother and I are not the same," Schwickert says. "I'm more of a visionary, a strategist, sales-minded. And my brother is more cost-component focused. We may both walk by a box full of nails, and I'll say it weighs 15 pounds. And he'll want to count every nail."
The Schwickert brothers are such a productive team, since assuming the family business they have grown it into a $50 million company focused in the building areas of mechanical, electrical and roofing. They have more than doubled the number of employees and expanded to three satellite offices in Rochester, Minn., (opened in 1985), Minneapolis (opened in 2012) and Lawrence, Kan. (opened in 2016).
Adding the Lawrence location was one of Schwickert's ideas to make the company more profitable.
"We've always had a challenge here living above the freeze-thaw line," Schwickert says. "We can't do roofing work all year, so being diversified has been helpful for our company. At the same time, we use our resources in other areas such as Kansas, where we can work year-round, which gives us the ability to work to full capacity."
Tecta America
While working to grow the family business, Schwickert always remembered his dad's prediction for the roofing industry.
"He said: 'One day, the roofing industry will be consolidated,'" Schwickert says. "He predicted it back then, and now it's happening."
Sharing his father's vision, in 2000, Schwickert and 13 other professional roofing visionaries founded Tecta America, a leading national commercial roofing company with services spanning installation, replacement, new construction, repairs, disaster response and recovery, portfolio management, and advanced sustainability options.
Implementing the vision for Tecta America took about 18 months.
"We liked the roll-up model and the idea of consolidation because there were a lot of synergies there, such as insurance and savings, that made a lot of sense," Schwickert explains. "When I was looking to make Schwickert's of Mankato bigger, Tecta America became my solution. Our group of founders started getting together every month for about a year and a half, and in 2000 we implemented it. We weren't the first ones to do it, but we've stuck around the longest."
Since its inception, Tecta America has acquired more than 20 roofing companies and now has more than 60 locations each averaging more than 60 years in the industry. Its unique business model provides customers with locally operated businesses with in-depth knowledge of the unique needs of their communities while also providing access to resources only available with a national roofing company.
When Tecta America was born, Schwickert's of Mankato became a Tecta America company, Schwickert's Tecta America, and Schwickert became a full-time Tecta America employee. From 2000-12, Schwickert was an operating unit president for Schwickert's Tecta America, and in 2012, he was regional managing president for Tecta America's Northeast and Midwest areas. In 2014, he became senior vice president of the national business unit.
"I also was a vendor relations guy when I was an operating unit president, so I've had the fortune of seeing the industry from a different perspective than most people," Schwickert says. "I've seen it from a manufacturer's perspective; I've seen it from a national perspective; and I've seen it from the perspective of a family-owned, single business. And so I understand where everyone is at; I've been there."
NRCA
Tecta America founders include five former NRCA presidents: Mark Gaulin, former chief operating officer and CEO of Tecta America; the late Don McNamara, who served as Tecta America's first CEO; Rob McNamara, president of strategic projects for Tecta America; John Miller, former CEO of Western Roofing Service, a Tecta America Company, San Francisco; and Marlin Potteiger, founder of Potteiger-Raintree Inc., Glen Rock, Pa. Other NRCA former presidents such as T. Allen Lancaster Jr., CEO and president of Metalcrafts, a Tecta America Company, Savannah, Ga.; and Lindy Ryan, senior vice president of service and leadership development for Tecta America, also have joined the Tecta America family.
In addition to the roofing trade, NRCA was a commonality that brought the leaders together. Schwickert's of Mankato joined NRCA in 1987 so Schwickert could learn more about the roofing industry.
"I joined NRCA because I had to learn roofing and I had to get exposed to it, and the only way I was going to get exposed to it all was to go to the conventions," Schwickert says.
A few years later, in 1997, he became involved on a leadership level after The Roofing Industry Alliance for Progress invited him to become a Charter Governor.
"There I was, this kid in a room full of people who all knew each other, and Melvin Kruger (a former NRCA president) sought me out right away," Schwickert explains. "He introduced himself and then began to introduce me to other people. It almost felt like he was my father. He is a great man; I have a lot of respect for him. And I'll never forget that day. That launched me into being more interested in what's going on and to get more involved."
After the Alliance meeting, Schwickert began serving on NRCA committees, including the career path, consumer awareness, educating operating, membership and PAC advisory committees. In addition, he has served as chairman for the education resource and workforce solutions committees. In 1999, he was elected to NRCA's board of directors and served terms from 1999-02, 2003-04 and 2010-13. During 2004, he was elected to NRCA's Executive Committee and served as vice president from 2004-06, vice chairman from 2016-17 and chairman of the board-elect from 2017-18.
According to Schwickert, having a knowledgeable, capable workforce to meet roofing work demand is a pressing issue for NRCA and the industry.
"Without a doubt, manpower is the most important issue facing the roofing industry," he says. "We have a real problem, and it's not going away. We can't wish for a roof to be torn off; someone has to tear it off. And somebody has to put it back on. It takes people to do it."
To help alleviate the issue, in 2017, NRCA embarked on a major initiative to begin certifying the roofing industry workforce through its ProCertification program scheduled to launch later this year. Schwickert previously implemented an apprenticeship program for Schwickert's Tecta America, so researching and launching a training program is in Schwickert's wheelhouse.
"At the time, we had a worker shortage problem, and we needed to have an apprenticeship program to be competitive and to train our people," Schwickert says. "I have a passion for education, and I believe in training to retain people and showing them a career path to help them succeed. So we developed an apprenticeship program, and it's really been a strong component of the company that has helped the company grow."
Under Schwickert's direction, Schwickert's Tecta America's successful apprenticeship program currently has about 25 apprenticeships at varying levels. Seeing firsthand the wide-reaching positive results a trained workforce can provide, Schwickert has made ProCertification a focus of his term.
"What I need to accomplish as chairman of the board is all the 'heavy lifting' we need to do to get ProCertification going," he says. "Getting the curriculum done, organizing training sites, organizing the train-the-trainers and all those types of components will need to be done this year for the program to work."
Schwickert's unique perspective developed from working with people in all areas of the industry will be an asset for uniting the industry to support the program.
"Every manufacturer or distributor I have been in front of has raised his or her hand and in some way has asked what he or she can do to help because they see the value in it, too," he says. "They see the challenges of workmanship issues because they pay the warranties."
Beginning the process of uniting the industry to work on large-scale industry projects was a major focus for Jim Barr, NRCA's immediate former chairman of the board and president of Barr Roofing Co., Abilene, Texas, during his term and something Schwickert plans to continue.
"Jim kept us on track and focused on where we needed to go to get to the next level," Schwickert says. "There was a 'sea of change' so to speak during Jim's term when we began NRCA's One Voice Initiative. The success of the One Voice Initiative was a result of the efforts of Jim and Reid Ribble, NRCA's CEO. Everyone recognized how valuable it is to the industry, and Jim took a leadership role in that."
Schwickert believes the momentum from the One Voice Initiative combined with the launch of ProCertification will help create a robust industry and invigorate the association.
"I see the industry becoming a more powerful entity because we've been able to pull everyone together," he says. "I think ProCertification is going to be strong for us, and it's really going to inflate NRCA's brand. We're also going to see more contractors joining NRCA."
According to Kim Schwickert, his brother is the perfect person to ensure ProCertification launches.
"It's going to take vision to accomplish something like that, and Kent is visionary to the max," he says. "He has the ability to see things out there that a lot of people don't see, and he's able to quickly put together a process, step by step."
Dreaming out loud
In between his NRCA Executive Committee and Tecta America responsibilities, Schwickert has been working on another aspiration. His dream to own a winery came to fruition in May 2012 when Chankaska Creek Ranch and Winery in Kasota, Minn., opened for business.
"I have a heavy passion for the winery, and now it's a full-fledged business," he says. "I started collecting wines and visiting wineries and seeing how the industry works, and I thought: How can I take a product and turn it into another product and promote a brand and develop it from scratch—to do something that was all me because Schwickert's was here 80 years before I showed up."
In 2008, Schwickert and a close circle of investors bought the land for the winery and discovered a "Chankaska Creek Ranch" sign from the 1800s on the property. He decided to honor the area's heritage by naming the winery Chankaska Creek Ranch and Winery. In 2009, the vineyards were planted, and in 2012, the winery facility was built.
During 2017, the winery sold more than 10,000 cases of wine. In true visionary leadership form, Schwickert looked to expand on this success by branching into selling spirits such as whiskey, brandy and gin.
"I couldn't find enough Minnesota growers to ramp up the wine volume, so I knew I needed more types of products," he explains. "So I went to Michigan with our winemaker to see what they were doing, and they were selling spirits, too."
Schwickert's winemakers come from Napa and live on the winery property. To grow grapes in Minnesota's cold climate, they use a hybrid grape.
"Basically, it's a grape commonly found in Minnesota growing wild that has been crossbred with a French vinifera grape to create a grape that can make good wine, withstand cold temperatures and be disease-resistant," Schwickert explains. "We have 12 varietals at Chankaska."
Wines from Chankaska Creek Ranch and Winery now are available in about 500 Minnesota liquor stores and are the preferred wines at Minnesota Timberwolves NBA and Minnesota Wild NHL games. In addition, the winery hosts events such as weddings and was named the No. 1 wedding venue by The Knot magazine for 2016 and 2017, and its single varietal 2015 La Crescent earned the Minnesota Governor's Cup for the best Minnesota grape wine.
Schwickert's wife, Jane, says her husband's winery project was a tremendous undertaking.
"Some people thought he was crazy, including me," she says. "But he's built something from nothing, and he's envisioning it to be here past our lifetimes. I truly think it will be his biggest accomplishment."
Family life
Jane Schwickert is general manager at Chankaska Creek Ranch and Winery, and when she's not traveling with their daughter, Greta, 20, to equestrian events, she is at the winery overseeing operations and the construction of a new 9,800-square-foot events center. Greta is a freshman at the University of Minnesota and has been riding horses since she was 12 years old.
"My daughter competes at a high level for equestrians," Schwickert says. "She's competing at a two-star level; above that is three and above that is God. She's trying to compete at enough two-star level events to qualify for the Junior Riders Program, which is essentially the recruitment program for the Olympic Games."
Schwickert and his wife also share a son, Ian, 23, who is graduating from the University of St. Thomas, Minneapolis, where he was captain of the baseball team.
"He's graduating this year with majors in finance and real estate," Schwickert says. "He's talking to real estate management companies here and in Colorado, and we'll see where he ends up. I don't think he wants to get into roofing, at least not yet. He wants to do something on his own. In my opinion, he should do whatever he wants."
Jane and Kent Schwickert have been married for 30 years and laugh when reminiscing about their first meeting.
"She likes to remind me because when she first met me, she thought I was a jerk," he says.
"He was a jerk," Jane agrees. "It's a funny story. When I was in college studying to be a nurse, I was at a local bar with a friend, and Kent came in and started talking to me, telling me how great he was and this and that. After my friend and I left the bar, I asked my friend who he was and she said, 'Oh, that's Kent Schwickert. He's a real jerk.'
"So I saw him a week later when I was walking into another bar where he was walking out, and he said, 'Hi, Sue!' And I thought: Oh, man there is strike two—my name is Jane, jerk. Then a couple of minutes later he came back in, came up to my table and said, 'Excuse me, this will only take a minute. I am so sorry I called you Sue. I know your name is Jane, I feel really bad.' And then we talked, and the rest is history."
For four years, Schwickert wined and dined Jane, and in 1989, the two married and held their groomsmen dinner in a restaurant that coincidentally was on the Chankaska Creek Ranch and Winery property before they bought it. They love to travel with their family, including Kim and his wife, Sue, and their children, and they have a home in Vail, Colo., where the family enjoys the winter holidays together.
"My favorite thing to do with my dad is skiing," Greta says. "The holidays are the best time of year when he's away from work for a little while and I am off of school. I love talking to him. He's been one of my biggest supporters, and there's nothing I love more than going out to dinner and just talking and listening to him. He is my best friend."
Ian also fully enjoys his father's companionship.
"I love going to baseball games with him and skiing in Vail," he says. "But honestly, my favorite thing to do with him is to sit on our back patio and just talk. I love picking his brain and asking him for advice, talking about sports, life, etc. He is the smartest guy I know."
Schwickert's family is proud of his new NRCA chairman of the board role and plans to fully support him.
"I'm so happy he gets to do this," Jane says. "It's been a long time coming. I'm super proud of him, and we're at the point in our lives with our children grown that we can do whatever it takes to make it work."
The future is clear
According to Mark Santacrose, president and CEO of Tecta America, making a happy family, establishing an outstanding career and honoring a passion for wine while creating environments where all can flourish are the marks of a true visionary leader.
"Kent has been able to lead at all levels," he says. "Alongside his brother, he built a regional powerhouse company at Schwickert's, co-founded Tecta America, held a series of leadership roles throughout his career all while managing to stay close with his family and building a successful winery. He will do a great job leading the organization."
Under Schwickert's leadership, NRCA is poised for one of its most positive and productive years yet.
"Kent has great vision and passion," Ryan says. "He has the ability to see a path to the future, and he's excellent at figuring out how to get there. He has a growth mindset and is energetic in his thought process. He'll represent the roofing industry in a positive manner, and he is the perfect choice for NRCA."
Chrystine Elle Hanus is Professional Roofing's associate editor and NRCA's director of communications.
---
NRCA One Voice Initiative
In February 2017, NRCA launched its One Voice Initiative to unite the roofing industry and speak with one voice about matters critical to the roofing industry's continued success. NRCA believes the roofing industry has matured to the point where the views and concerns of contractors, manufacturers, distributors and others in the industry align on the vast majority of issues they face. There is a clear consensus to move the industry forward together, and NRCA is reaching out to manufacturers, distributors, architects, engineers and consultants with the goal of having them become fully engaged with NRCA, as partners.
To ensure more industry sectors are given an opportunity to participate fully, NRCA's board of directors amended the association's bylaws at its Feb. 27, 2017, meeting in Las Vegas to grant a minority position on NRCA's board of directors for manufacturers, distributors, architects, engineers and consultants who desire greater partnerships with the organization. NRCA also is committed to involving more people from the supplier and design communities in NRCA committee and task force work. Currently, 22 member partners have joined the One Voice Initiative. For more information about NRCA's One Voice Initiative, please visit www.nrca.net/onevoice.
---
Chairman of the board—the lighter side
What is your favorite word or phrase?
WTF.
What sound do you love?
I like to hear the birds in the morning when I get up.
What sound do you hate?
I don't like overly loud, disrupting noises.
What profession other than your own would you like to attempt?
Ski concierge in Vail, Colo.
Which season of the year do you prefer?
I like all seasons.
If Heaven exists, what would you like to hear God say when you arrive at the pearly gates?
You're here too early.
What is your favorite quality in a person?
Honesty
What is your fear?
Failure
Do you have a favorite food?
I like a lot of food because I like to cook. I like to experiment and try different sauces, soups, meats, etc.
What is your pet peeve?
Laziness
---
Up next—Nick Sabino is NRCA's chairman of the board-elect
In 1996, Deer Park Roofing Inc., Cincinnati, was founded by Nick Sabino, president of the company. In 2000, he joined NRCA to learn more about the roofing industry.
"As a first-generation roofing contractor, NRCA gave me the expertise and awareness that only a 132-year-old association could provide," Sabino says. "The resources have been a valuable asset to our company."
In 2009, he became involved on a leadership level when he was elected to NRCA's board of directors. He has served as director from 2010-13 and 2016-18.
"The opportunity to be more involved in industry events and with my peers was exciting to me," he says.
Since then, Sabino has served on multiple committees such as the government relations, health and safety, membership marketing, NRCA University operations, workforce solutions and young contractors committees. He also has assisted with technical publications, including The NRCA Roofing Manual: Steep-slope Roof Systems—2017.
"I really enjoyed contributing to the steep-slope roofing manual when it was updated in 2017 and working with the technical staff," Sabino says.
In 2014, he was elected to NRCA's Executive Committee and served as vice president from 2014-16. This year, he was elected to chairman of the board-elect, next in line to chairman of the board.
"The opportunity to follow in the footsteps of so many great leaders means a lot to me," he says. "I look forward to giving back to the industry that has been so kind to my family and employees."
According to Sabino, maintaining a thriving workforce is the most important issue facing the industry.
"Our workforce is aging, and we need to add new roofing professionals to meet the demands of our growing industry," he says. "To achieve this, we need to train and certify these individuals."
In 2017, NRCA began working to develop ProCertification, a program to certify roofing workers, scheduled to launch later this year under Chairman of the Board Kent Schwickert's leadership.
In addition to undertaking a major certification training program, NRCA unveiled its One Voice Initiative (see NRCA One Voice Initiative). According to Sabino, the success of these programs will benefit all segments of the industry, so it's important for everyone to become active and work together.
"Kent and I are focused on uniting the industry around professionalism through the One Voice Initiative and successfully launching ProCertification," he says. "I hope more roofing professionals get involved."
In between his NRCA volunteer leadership and Deer Park Roofing responsibilities, Sabino enjoys golfing and spending time with his wife, Jennifer, and stepson, Nicholas, 28. He is grateful for Jennifer's support of his new NRCA role.
"She is extremely supportive," he says. "She understands my NRCA passion."
According to Sabino, NRCA has big plans for the coming year, and he's ready to see it all come to fruition.
"NRCA is faced with many new challenges and opportunities that have been years in the making," he says. "I am really looking forward to seeing our vision become a reality."