There are a wide range of roofing systems and materials from which to choose.  The right solution for your facility will depend on the specific needs and budgets for that facility as well as the owner's or user's expectations for performance  Because Tecta America is certified with every major roofing manufacturer, we can work with you to select the absolute best roofing system to meet the goals of your facility.  We have the expertise and experience to tailor a roofing solution to the specific needs of your facility no matter the size or complexity.
SYSTEMS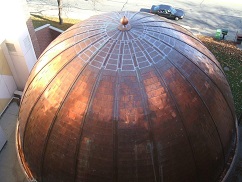 Architectural Sheet Metal
Architectural sheet metal is the custom fabrication of metal flashings, trim, and sometimes ornate metals utilizing a multitude of materials. The metal types utilized range from conventional metals like steel and aluminum to high end materials like zinc, copper, lead, and metals with custom colored finishes.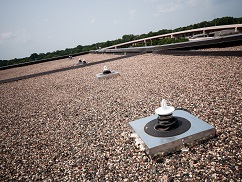 built-up roof
The built-up roofing system is compiled from multiple layers of roofing plies (typically 2 to 4) adhered with adhesive or hot asphalt. The roof system is usually surfaced with a gravel layer embedded in hot asphalt or adhesive but can also be surfaced with a granulized cap sheet or coating. It can be installed over a multitude of roof decks and insulations.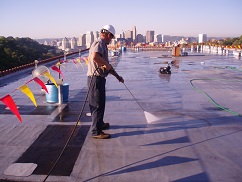 Coatings
Roof coatings are typically used in a restorative capacity to prolong the lifespan of an existing roof. Roof coatings can be installed over existing modified bitumen roofing systems, built-up roofing, metal roofing, and spray foam roofing. Multi-year manufacturer warranties also are commonly available.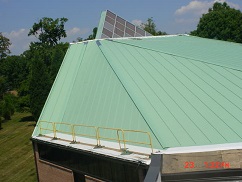 Steep-Slope Roof
Steep-slope roofing is typically considered to be any roof system which has a slope equal to or greater than 3:12 (though in some cases, it is defined as any slope >2:12). Some of these roof systems can be asphalt shingles, wood or cedar shakes and shingles, clay or concrete tile, or various metal or synthetic systems.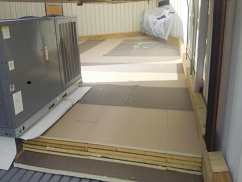 Tapered Insulation Systems
The system is an assembly of roof insulation that is sloped to provide primary slope on a roof deck where the existing roof deck does not provide adequate drainage. Slopes typically range from ¼" per foot to ½" per foot. It is utilized on several different roof decks and under most any low slope roofing system.
Waterproofing
Waterproofing systems are utilized to prevent the passage of water under hydrostatic conditions (where water is present). System components include a membrane and additional components such as insulation and drainage materials. These are typically below-grade installations but can also include above grade walls, patios, and balconies.
SERVICES
Roof Replacement
The process of removing the existing roof system, repairing any damaged substrate and installing a new roof system; also known as "reroofing" and "tear-off and replacement".
New Construction
The construction of a roof system on a new building or building addition. New construction roof systems do not involve the removal, recover or replacement of an existing system.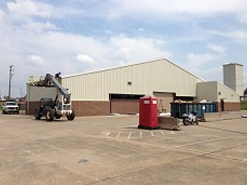 Repairs and Services
Extreme weather, including tornadoes, hail, heavy snow, downed trees, even seasonal freeze and thaw cycles can damage your roof and lead to leaks.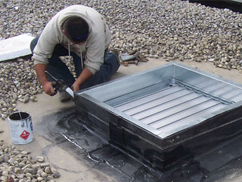 Preventative Maintenance
A maintenance plan to help avoid unexpected budget and roofing issues, facility downtime and premature roof failure or replacement.
Roof Asset Management
Tecta's asset management software system offers facilities managers a powerful tool to plan, budget, manage, and optimize their roofing portfolio.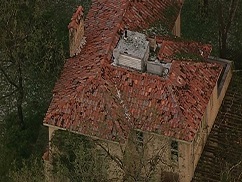 Emergency Response
Emergency nationwide crews are here 24/7 to inspect the roof, assess the condition and begin making temporary or permanent repairs.
Customer Service
Providing an immediate point of contact, professionals are available 24/7/365 – by phone, fax or email.
Skylight/Smoke Hatch
An economical method for daylighting a facility while meeting fire code would be a single unit skylight/smoke hatch combination.
Snow Removal
If a roof collapses, you risk building damage, productivity loss, or an injury to a building occupant. A roofing snow removal team will understand the complexities and layout of your roof.
ENVIRONMENTAL SOLUTIONS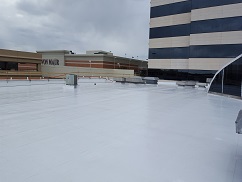 Cool Roof
Cool roof surfaces can remain at markedly lower temperatures when exposed to solar heat compared to roofs constructed with traditional non-reflective roofing products. Tecta America professionals can help assess your needs depending on your building and its geographic location.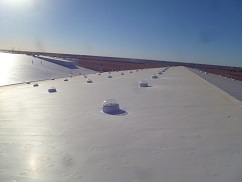 Daylighting
The practice of placing windows or other openings and reflective surfaces so that during the day natural light provides effective internal lighting. Particular attention is given to daylighting while designing a building when the aim is to maximize visual comfort or to reduce energy use.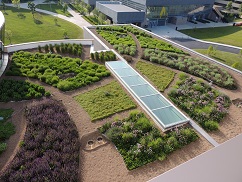 Green Roof
Green or Vegetative Roofs are composed of several layers including an underlying waterproofing system, soil media and vegetation. Benefits of this system include: lower energy costs, LEED recognition, air quality, reduced storm water runoff, and an extended roof life.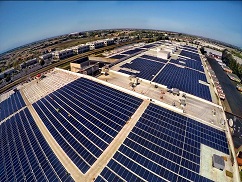 Solar
A panel exposed to radiation from the sun, used to heat water or, when mounted with solar cells, to produce electricity direct, especially for powering instruments in satellites.