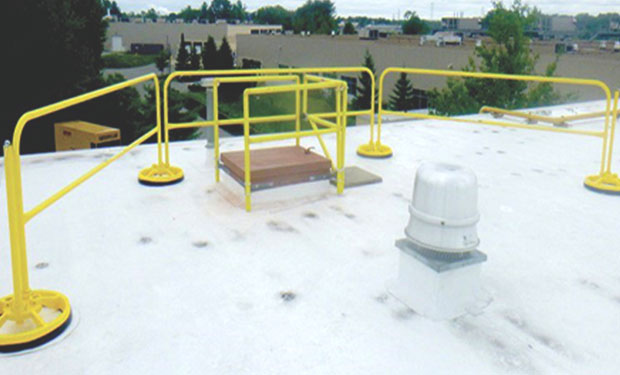 Install Rooftop Guardrail Systems and Install Peace of Mind
Installing OSHA compliant safety guardrails can help reduce the chance of potential lawsuits from not having the safety guardrail installed, and can protect workers from rooftop hazards when they are performing maintenance.
Tecta America New England's Portland office received a request from Lonza Biologics in Portsmouth, NH to design a safety system for their entire roof. We began by installing warning perimeter lines which extend around the entire building. Safety stanchions were positioned 15 feet in from the edge perimeter and 25 linear feet apart from each other. Safety lines consist of 1/4″ stainless cable with clear hard plastic sheathing, and the cables are mechanically attached to vertical stanchions which can withstand 250 lbs. of resistance.
All roof hatches and ladder accesses have safety rails. Surface mounted access ladders have a safety gate and hard rails providing safe egress for all workers and the customer's associates. Schedule a roof inspection and let us show you where safety systems should be installed.