NRCA Bestows Top Honor Upon FJAC President Rob McNamara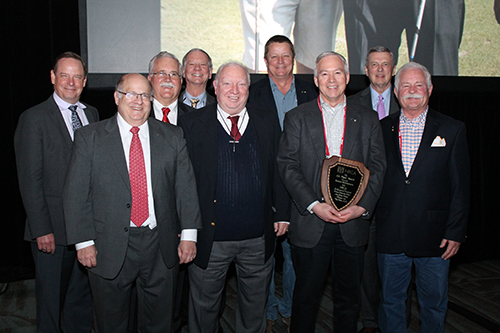 F.J.A. Christiansen Roofing Co. President Rob McNamara has been awarded the National Roofing Contractors Association's highest honor — the J.A. Piper Award.
McNamara, who formerly served as the NRCA's president, was presented the award at the association's annual convention earlier this year.
The award recognizes roofing professionals who have devoted constant, outstanding service to the association and roofing industry.
In addition to serving as NRCA president from 2009-10, McNamara served as NRCA senior vice president from 2008-09; vice president from 2006-08; and 3 terms as a director beginning in 1996 while chairing numerous committees.  He also has served as President of both the National Roofing Legal Resource Center and more recently affiliate The Roofing Industry Alliance for Progress.
"I'm truly honored to be part of this wonderful group," McNamara said when accepting the award. "There are so many good people to look up to as you get involved in the industry. It's a great opportunity to work together with friends, and I highly value the relationships you develop and great friendships you develop across the industry."
First presented in 1948 to Irv Langer, then an officer of FJAC, the J.A. Piper Award is named for NRCA former President Joseph A. Piper, whose extraordinary efforts kept the association alive during the Great Depression.  Former FJAC and NRCA President Don McNamara was a recipient in 1990.