Putting 30 Years of Experience to Work for You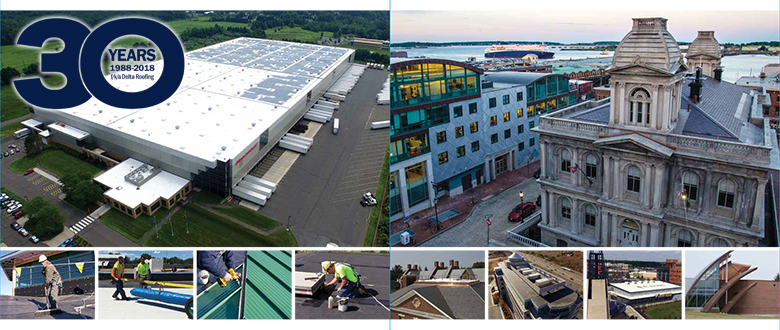 Tecta America New England's home office is in North Billerica, MA with offices in Hanover, MA, Portland, ME and East Hartford, CT. Along with our four locations, Tecta America companies WeatherGuard (Schenectady, NY) and Roof Systems of Maine (Bangor) round out Tecta America's Northeast team.
Thirty years ago, the New England region needed a professionally and ethically run roofing company where customers' needs came first. Delta Roofing was established in 1988, and as the years went by the business experienced exponential growth through hard work, quality products, prompt service, and superior customer satisfaction. Delta Roofing then became part of the Tecta America family in 2007.
"We thought that becoming part of Tecta America would create synergies that would make us more competitive and strengthen our market share in New England," said Tecta America New England President Peter Owens. Having the resources of a national company behind us has reduced purchasing costs, allowed us to tap into a national wealth of knowledge and create more of a full-service company.
Because we're approved by every major roofing product manufacturer, Tecta America New England stands behind their work and the manufacturers stand behind us. Along with a reputation for excellence comes a long list of satisfied customers, and we appreciate that our customers are one of the most valuable assets we have.
Our roofing industry expertise includes industrial, warehousing, commercial offices, tenant fit-ups, shopping malls, biotech, healthcare, sports stadiums, educational institutions, and state, local and federal government buildings. Additionally, they've developed one of the region's largest service businesses. Custom sheet metal work is done in-house by skilled metal craftsmen who can fabricate anything from standing seam metal roofing panels to gorgeous, historically-accurate copper pieces.
N. Billerica: 2 Sterling Rd., N. Billerica, MA 01862 • 978-436-9990
Hanover: 285 Circuit St., Hanover, MA 02339 • 781-982-5684
Portland: 1093 Riverside St., Portland, ME 04103 • 207-878-1732
E. Hartford: 105 Cherry St., E. Hartford, CT 06108 • 860-828-0380